Bahá'í Youth Pacific Conference, Apia, Samoa, 1969
An international Bahá'í Youth Pacific Conference was held in Apia, Samoa, in December 1969. Over 60 youth came from the Pacific Islands, Australia, New Zealand, Hawaii and California, with a programme featuring Hand of the Cause Abu'l-Qásim Faizí, and members of the Auxiliary Board and of National Spiritual Assemblies. One day, we climbed up Mount Vaia behind Apia to the grave of author Robert Louis Stevenson, "Tusitala" or teller of tales to the Samoans. We sang, enjoyed Samoan dances, picnicked along the beach and went swimming in the lagoon. After the conference a number of us took the ferry to the other main Samoan island of Savai'i, where we were received by the Bahá'ís in the village of Puleia. The conference helped to build a Pacific-wide Bahá'í identity, and forged links between communities across the region.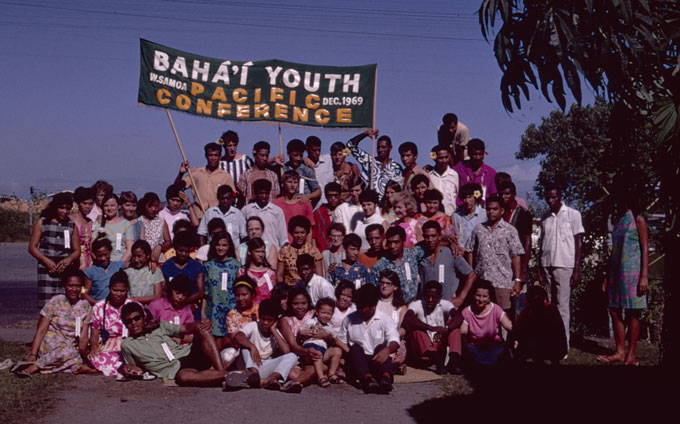 The Bahá'í Youth Pacific Conference 1969
---
The Programme
Each day Mr. Faizi gave an inspiring talk, summarized here from notes taken at the time, capturing his power to inspire the youth.
Mr. Faizi:
Purpose of Conference – to grow – teach with more sacrifice and dedication
Baha'u'llah's writings – three types, channels
Laws, Spiritual Principles, Administrative Principles
Laws: Fast, prayer, marriage, no intoxicants, etc.
Purpose: make each individual Baha'i perfect entity by himself - not instantaneous – drawn gradually toward perfection
Prayers, for example – talk to God, concentrate - but our thoughts wander – daily concerns - should not get disappointed, stop - continue and practice – like exercise
Obligatory prayers – same training
Why concentration? Key of success in every way - concentration brings all powers on one point - so try to learn for everything
Story of Muhammad's follower with arrow in leg – told to remove during concentration of prayer
This is medicine for spiritual growth
Law of prayer – to produce power of concentration
(continued tomorrow night)
Foundation of Baha'i Faith
two functions – growth and consolidation
Foundation importance
Spiritual principles – focus jointly
third – administrative principles
Youth today
Youth is an attitude – can keep all your life - if deepened, disciplined, in touch
Examples: Baha'i in Acca from Yazd (persecuted) knew history, etc.
At end of life, bought land in Acca (now exchanged for land in Bahji)
He had a spirit called youth
The father and mother of those who embrace the Faith are already forgiven by God
If martyrs knew of rewards of teaching, they would preserve their lives
Today greatest day for youth
a particle of service today will be loved into soul - a drop into oceans
Pass through the world like the wind (not like water) because the wind concentrates on it mission, never noticing the state of the place through which you pass
Make your life and desires as little as possible
Desires of self are never filled.
Magnifying effect of teaching
He asked for questions about best way of teaching
The middle of the 19th Century
If we see an object for the first time – 2 ways to deal with it
- child: ignorance, will damage, not fulfil purpose
- adult: maturity, wisdom
Where there is no order, there is no purpose - if there is order, there must be purpose - order implies purpose
We need representative from maker to teach purpose
(example of tape recorder and its brochure) - if tape recorder needs brochure, what about man – greatest machine?
Image – spirit of God – and animal spirit - cannot deal with this machine ignorantly
God has sent representatives to teach us how to use the human machine
Our own age started middle 19th Century – everything was perfect for the time – then in middle 19th Century – revolution in all walks of life – industrial, commercial, literary, political, etc. - source not known to historians – inception of Baha'i Faith
Story of first telegraph – same night as Declaration of the Bab
Result – people of world became followers of Science – people of religion resisted - start of clash between science and religion
Religion without science is superstition - Science without religion is destruction - cities of world will burn (Baha'u'llah)
Destruction on six sides: behind, in front, two sides, above, below
Suicide to destroy plan of God – unripe fruit
Bab on sail trip to Mecca: "Make the means of transport and communication easy and quick so that the message of Baha'u'llah can be spread quickly around the world."
Source is spiritual power released by Manifestation
Question about traditional island religions
Mr. Faizi: these are remnants of true religions, the spirit was lost
We cannot solve problems of old religions, must give new unity
Great religions and their beliefs
Each one has central theme – rest supports that theme or idea
Have lost much of earlier religions
Moses – established existence and unity of God – all teaching supported this
Israelites from Ur – Abraham exiled to Palestine
Sacrifice of animals – because animals worshipped
Forty years in Sinai so old animal worshippers died off – contaminated
Rules and regulations protect against atmospheres the people go into
Christianity – foretells about Kingdom of God - central theme of New Testament - explained 20 times in Gospels - will do everything to establish Kingdom
Beatitudes – highest utterances of Christ – emphasized Kingdom
Stories of 'Abdu'l-Baha about Christ:
Treasure in village in desert – sad old woman - son in love with daughter of King – Christ gave jewels – son realized true values – became followers
In heaven unity and peace – will be reflected on Earth
Mohammad (nation like Israelites) - mission like Moses – to establish unity of God among Arabs – and surrender your will to the will of God
Fighting so bad that necessary to have 3 month truce - no limit to animal feelings - only marriage unified - hospitality great characteristic of Arabs
Mohammad destroyed idols – set 5 times prayer - said no drinking before prayer – gradually prepared way to forbid alcohol
Baha'u'llah – Unity of mankind - anything that destroys unity is abhorred - all principles support idea of unity
Sources: Hitti, The Arabs (also abridged)
Amil Ali, The story of the Saracens
Dr. Sarton on Islamic Contributions, relationships of Christianity, Israel and Islam
Mr. Faizi on Badi and confirmation
Life must have depth – effect on self, others and future generations
We have different ripening times - examples: Franklin, Newton less than 30, Goethe 80, Michelangelo 70-80, Verdi 80
Should not be impatient if we do not do everything when young
Prayer necessary to realize capacities
Examples of giving thanks for bounties
- 12 year old child thanks parents for food
- mother of dead soldier thanking French mother for care
Prayer daily is way of thanking God for our life and bounties
American scientist: Man has made enough progress in material science, but he has not yet understood himself, his soul, his being, his reason for life
This is why there is so much emphasis for Baha'i youth on obtaining knowledge of self
Other programme material
Questions for discussion
What is the power of prayer?
Give some examples
How do we attract it into our own lives?
I am a free man, why must I have a plan?
Discuss personal freedom and the Baha'i laws
Example of one day's programme
Morning: Niu Tuitaga: letter from Bill Sears
Creation of teaching plans led by:
Tonga – alone
Fiji – Richard Lucas
New Caledonia
Western Samoa – Jennifer Brown and Seone
American Samoa, Hawaii – Chittleboroughs
Australia, N.Z. - Arthur Dahl
Afternoon: Jennifer Brown – acting out LSA problems
Mr. Faizi
Song written by youth from Hawaii, American Samoa and U.S.
Dark, dark, the world is dark
locked are the souls in the prison of self
Grey, grey is every day
without the light of this new age
Baha'u'llah brings a new world law
unity and justice for all
Bright, bright, the new world's bright
bright with the love of God's new light
Love, love, a great new love
uniting mankind with help from above
to the tune of "love is blue"
transcription of Arthur Dahl's notes from December 1969
---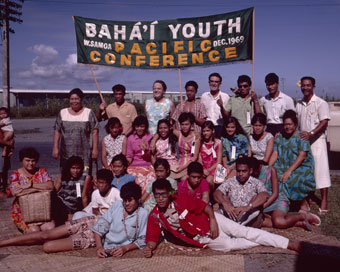 .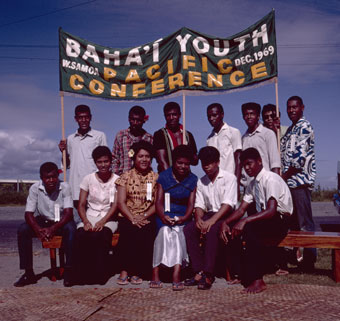 .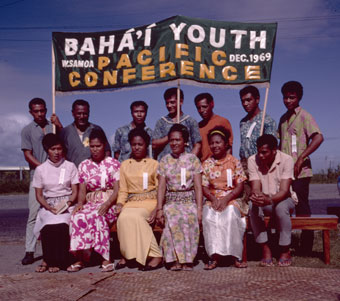 The delegations from Samoa, Fiji and Tonga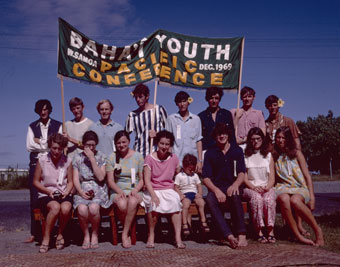 .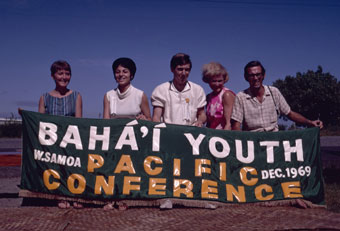 .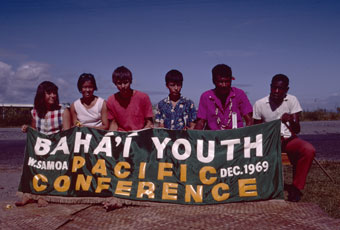 Delegations from New Zealand, Australia, and American Samoa/Hawai'i/New Caledonia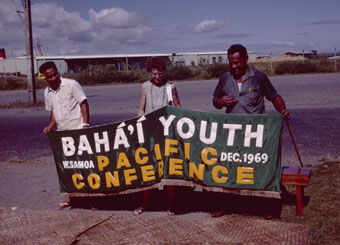 .

Auxiliary Board Members Niu Tuitaga (Samoa), Margaret Rawlings (New Zealand) and Mosese Hokafono (Tonga); Hand of the Cause A.Q. Faizi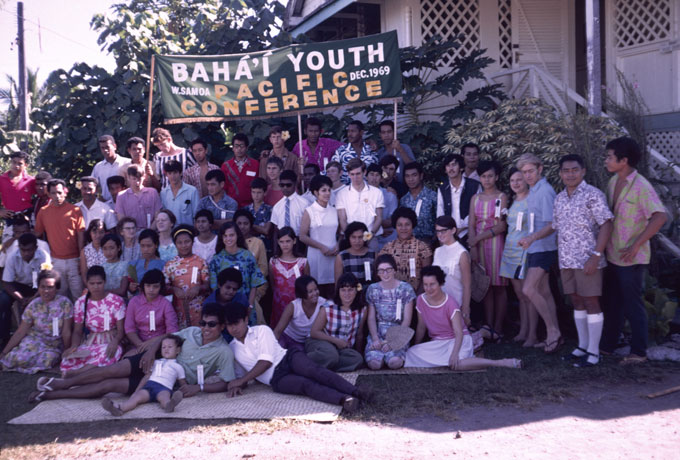 Group photo of the conference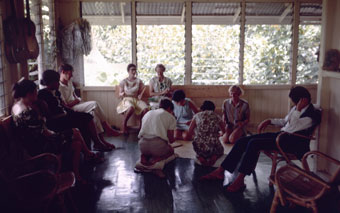 .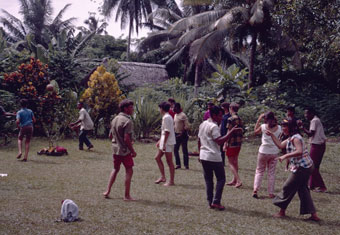 .

We played Maori stick games and sports, sang songs and enjoyed Samoan dances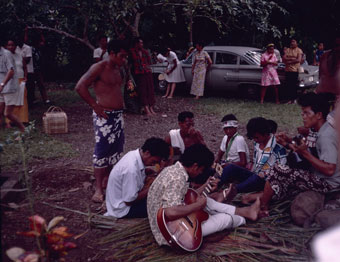 .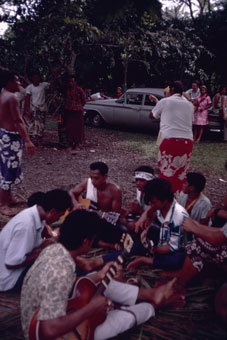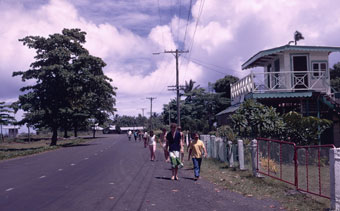 .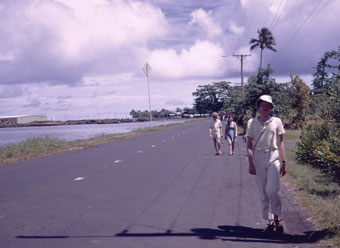 .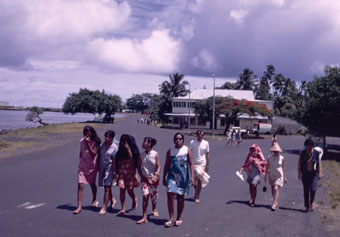 We stayed at Aubrey and Greta Lake's large house near the port in Apia, and walked into town along the Beach Road

.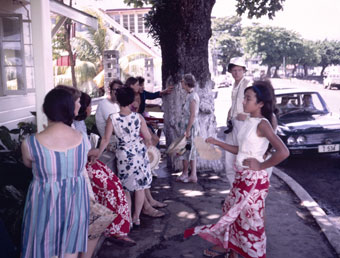 .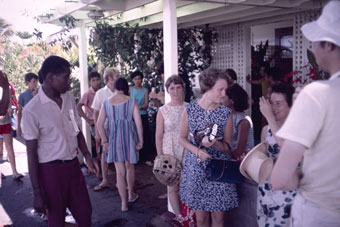 .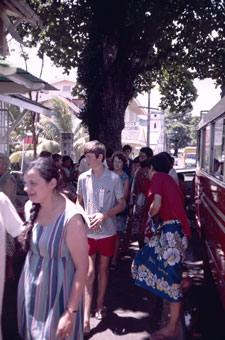 For Mr. Faizi's departure, we all waited outside Aggie Grey's Hotel to wish him goodbye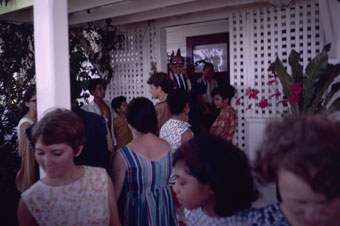 .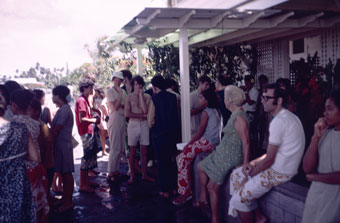 When Mr. Faizi came out, we had some last moments with him before his departure

---
Climbing Mt. Vaia behind Apia, to the tomb of Robert Louis Stevenson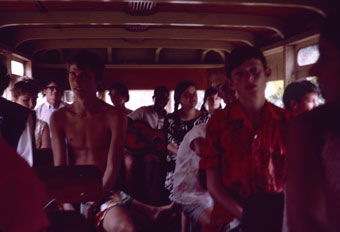 .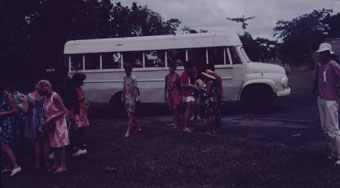 .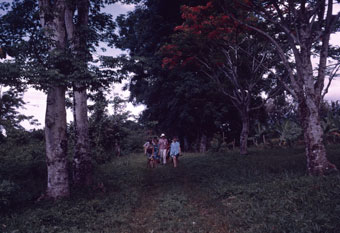 In the bus; getting ready for the climb; walking to the base of Mt. Vaia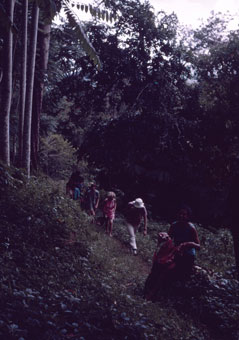 .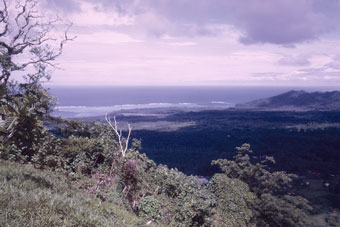 .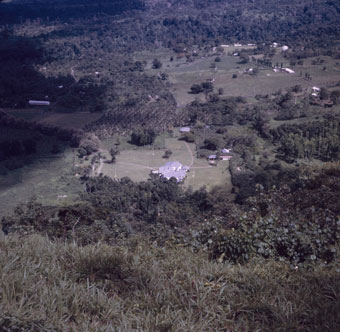 Climbing Mt. Vaia; the view over Apia from the top; looking down on Vailima, former residence of Robert Louis Stevenson, and then of the Head of State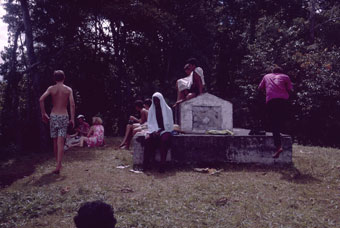 .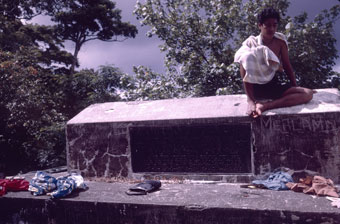 .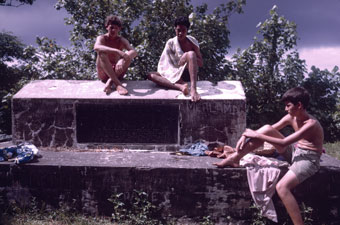 At the tomb of Robert Louis Stevenson on top of Mt. Vaia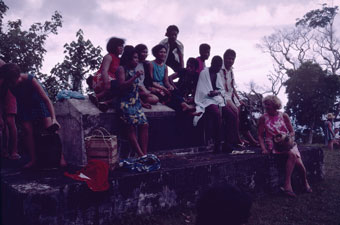 .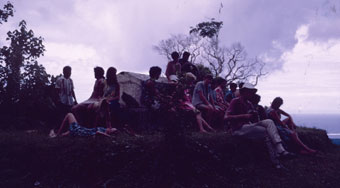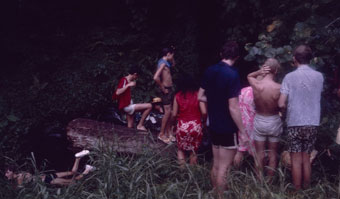 .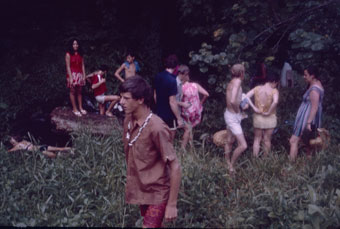 After climbing down the mountain, we cooled off in a stream

---
Picnic at the beach near the ferry landing for boats to Savai'i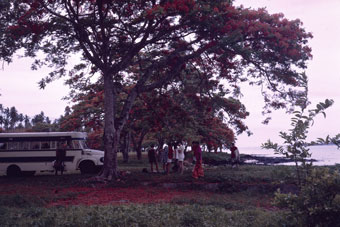 .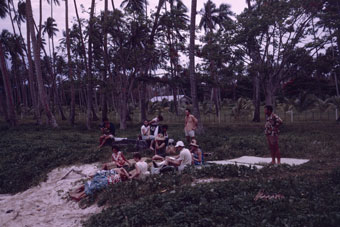 .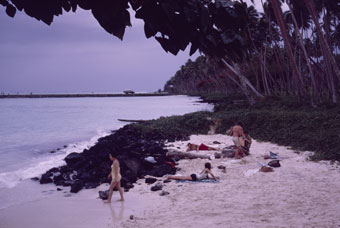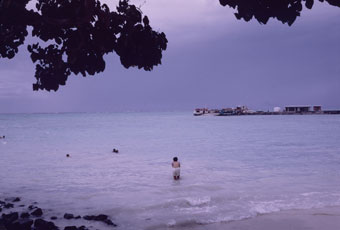 .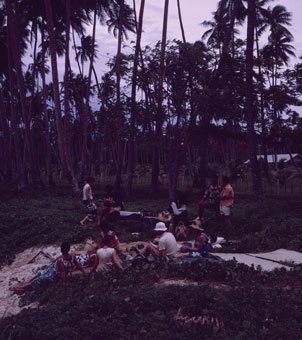 .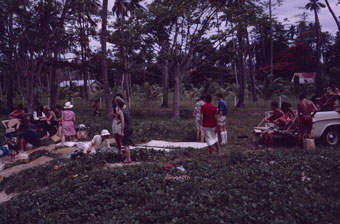 ---
Traveling from Upolu to Savai'i after the conference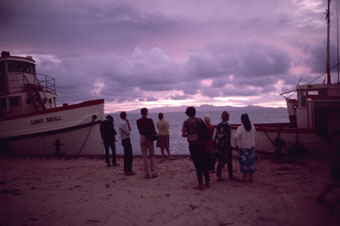 .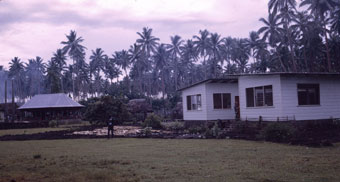 .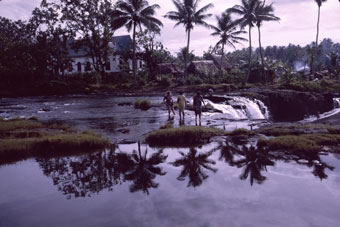 Sunrise from the boat landing on Savai'i, with our ferry on the left; Puleia village; crossing the river near Puleia village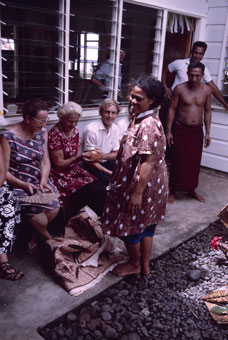 .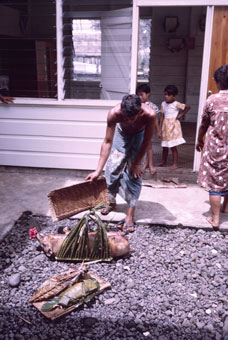 We received a traditional welcome from the Bahá'ís of Puleia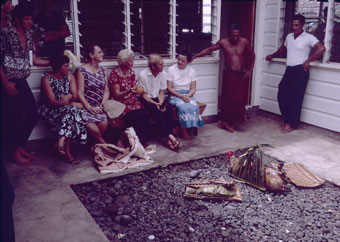 .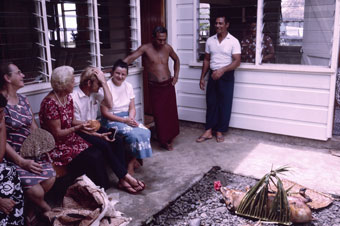 Traditional gifts of food, including a roast pig

The Bahá'í Youth Pacific Conference left its mark in the spirit of all those who attended, and scattered its influence across the Pacific.


---