Funeral of Keith Dahl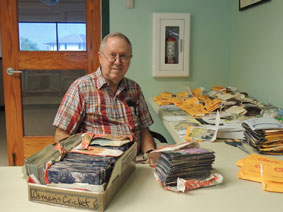 27 September 1940 - 9 December 2012

Tafuna, American Samoa, 20 December 2012
My older brother Keith Gordon Dahl was born in Palo Alto, California, on 27 September 1940 and passed away in Iliili, American Samoa on 9 December 2012, after 37 years as a Bahá'í pioneer, businessman and photographer in American Samoa. After studying economics and earning his MBA in 1967 at Stanford University, he tried following in my father's footsteps as an investment council, but decided that this was not what he wanted and, at my suggestion, he went to American Samoa to help Suhayl and Lilian Ala'i with their business, Pacific Products, where he remained as Treasurer and chief accountant until his passing. His two great interests were teaching Bahá'í children's classes and taking pictures of the people of American Samoa. This latter hobby developed into a passion that integrated him into Samoan society. He attended most sports events and was invited to almost every wedding, graduation, and other social event, providing prints of his pictures at cost to anyone who requested them (and they often did even years later). He always had up to 70,000 pictures in the back of his car in case anyone asked for them. On his passing he had amassed about 780,000 pictures in his house, car and a large store room, which he had willed and was already transferring to the photo archives of the Faleti Barstow Public Library in Pago Pago, so that they can continue to be of service to the Samoan people. The archive is being named in his honor.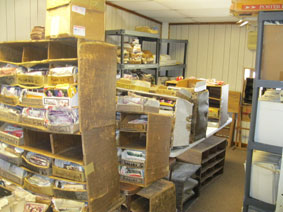 .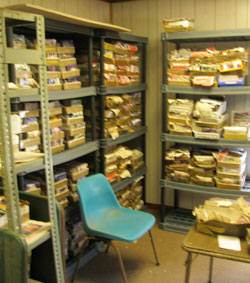 .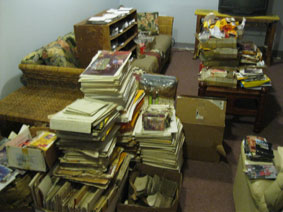 Two views of part of Keith's photo storeroom; the photos removed from his car
On receiving word of his unexpected passing, my brother Greg and I both desperately searched for space on flights to Pago Pago and managed to get there in time for the funeral, Greg from Bulgaria via the USA and Hawaii, me from Switzerland through Dubai, Australia, New Zealand and Apia. The last leg was difficult because Samoa had just been hit by cyclone Evan and was a disaster area, with most power, water and telephone service out and major flood damage in Apia. The National Baha'i Center and several Baha'i homes were swept away when a dam broke upstream.

Greg and I stayed at Keith's house in Iliili and had a few days to sort through Keith's possessions, selecting what needed to go to the Bahá'í archives, sending his clothing for the cyclone victims in Apia, and preparing his photos for transfer to the archives. His local Bahá'í community did a wonderful job with the funeral arrangements, although the police only released his body after their inquest a few hours before the funeral. It was not easy to lay to rest someone with whom I have been closely associated for 70 years, but he had led a full life of service and was appreciated by everyone.

General photos of Samoa are on the travel 2012 page.

---
Keith's funeral

at Tafuna cemetary, Tutuila, American Samoa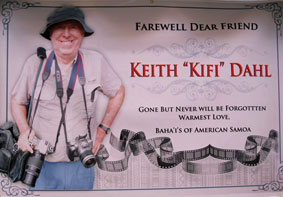 the large banner prepared for the funeral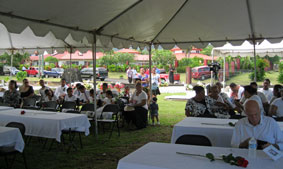 .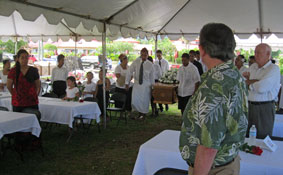 .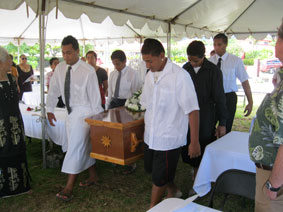 Guests arriving for the funeral in Tafuna cemetery; the specially-made casket with nine-pointed star being carried in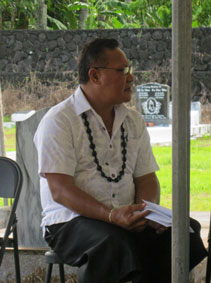 .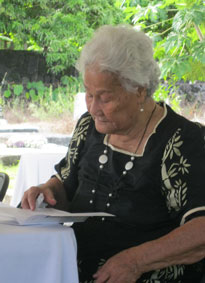 .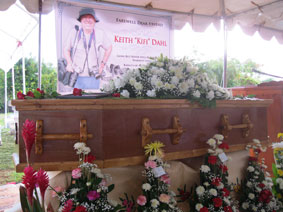 Afoa Titi Nofoagatotoa of the Iliili community, who organized the funeral; Lena Kava, one of our long-time friends in Samoa, in whose family Keith taught Baha'i children's classes for many years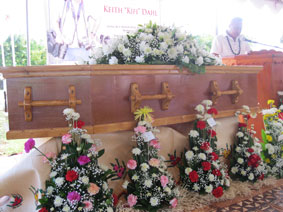 .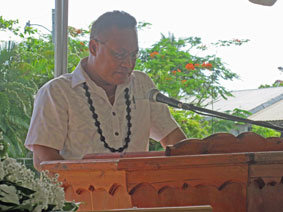 .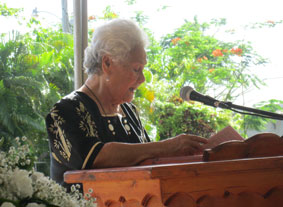 The funeral ceremony; there were many reading from Bahá'í prayers and statements of appreciation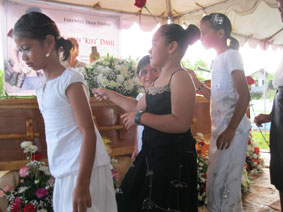 .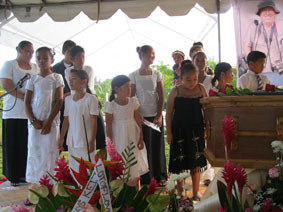 .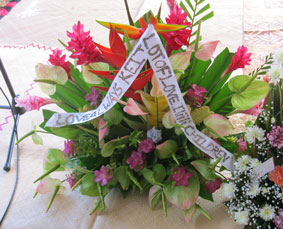 Many of the children Keith taught came to pay their respects and to say how much they appreciated him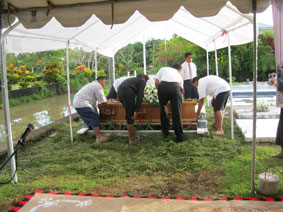 .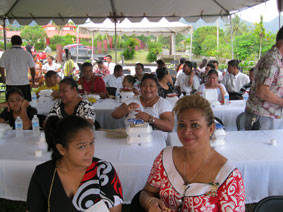 .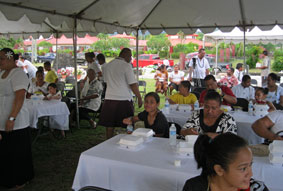 Lowering the casket into the grave, where I recited the prayer for the dead; all the guests shared a meal afterwards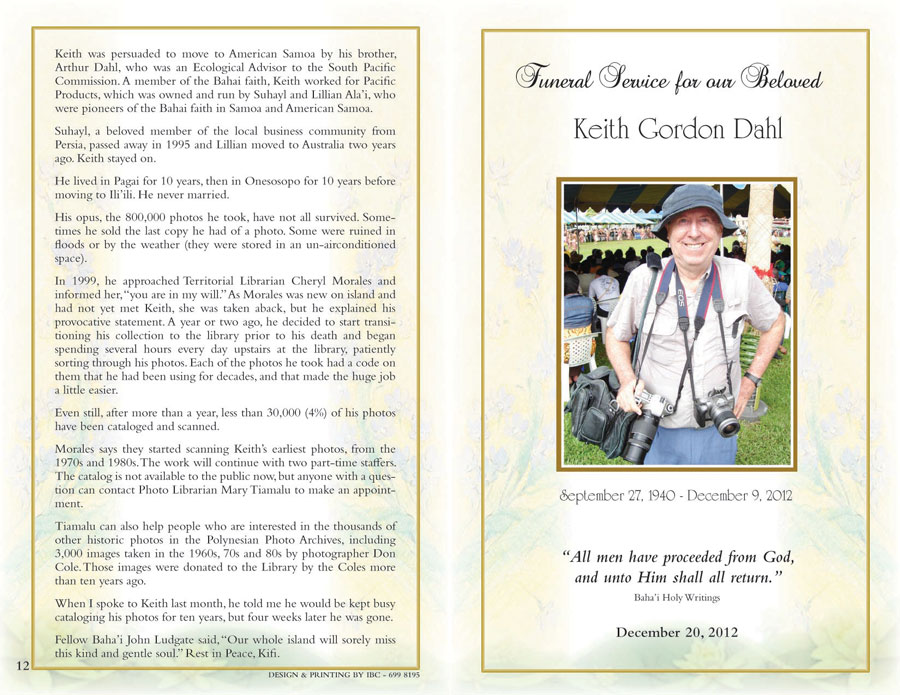 Front (right) and back cover of the funeral programme

---