Belgrade ECPD
The European Center for Peace and Development, affiliated with the University for Peace established by the United Nations, has been working for over thirty years on reconciliation, religious tolerance and human security in Eastern Europe and most particularly the Western Balkans. On 27 October 2017, ECPD held an International Round Table in Belgrade City Hall on "Peace and Democratic Multilateralism", chaired by H.E. Prof. Dr. Federico Mayor, former Director General of UNESCO. Other opening speakers were Dr. Ouided Bouchamaoui, Nobel Peace Prize 2015, and H.E. Prof. Dr. Erhard Busek, former Vice-Chancellor of Austria. I was a rapporteur for the round table, chaired one session, and presented a paper on "UN Charter Revision as the Foundation for Peace".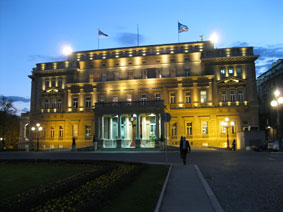 .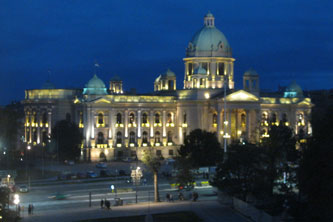 .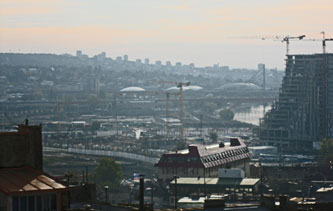 Belgrade City Hall, site of the meeting; Parliament across the street; view of Belgrade from my hotel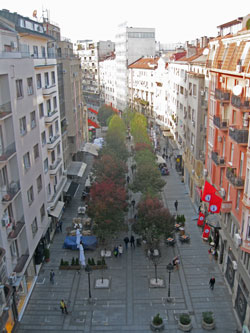 .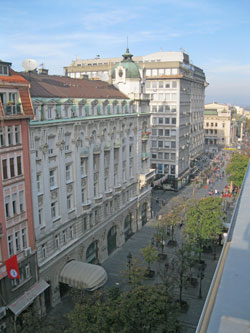 Views of Belgrade from my hotel

The ECPD Round Table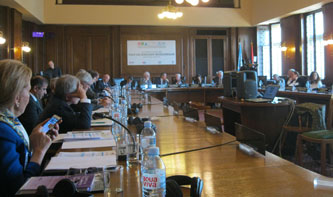 .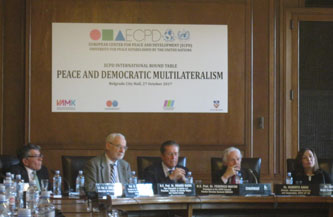 .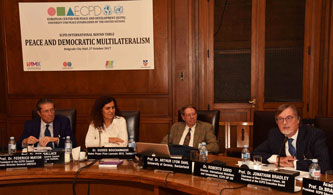 ECPD Round Table; keynote speakers Dr. Busek, Prof. Mayor; Dr. Bouchamaoui; me as a co-chair and rapporteur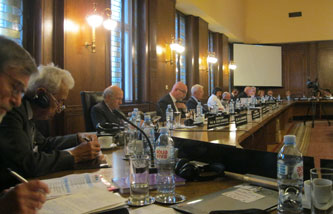 .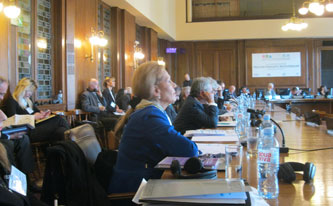 .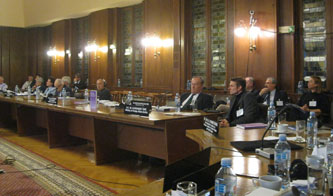 Participants in the Round Table included political leaders, diplomats and academics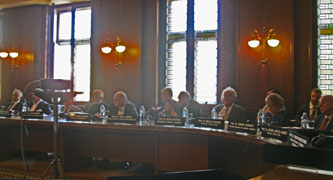 Global ECPD Youth Forum
On 28 October, ECPD organized a Global Youth Forum with over 50 participants from many countries, on "Youth Peace-builders for a Sustainable Future". I was a co-chair and moderator of the forum. Federico Mayor, Ouided Bouchamaoui and Erhard Busek again gave opening keynotes on the importance of youth for peace. In the morning, presentations were given on "Peace and Education as Inseparable Aspects of Civilization", and on "Unity in Diversity: Inclusion for a Sustainable Future". Dr. Farhang Tahzib, a Baha'i from England, spoke on "Capacity Building and Youth Spiritual Empowerment", and several youth from the youth spiritual empowerment programme participated in the forum. The afternoon was occupied with workshops on "Conflict Prevention and Interfaith Dialogue", "Building Peace Online: How the Internet and Social Media can be Utilized for Advocacy and Peace", and "Essential Skills for Today's Sustainable Development Challenges".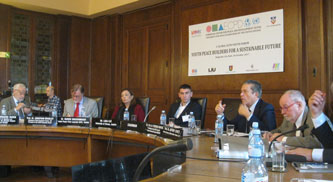 .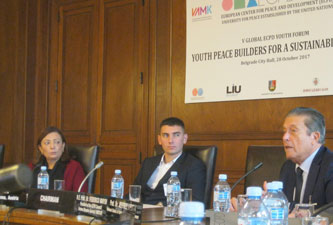 .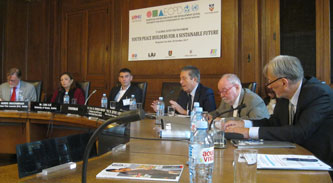 Federico Mayor delivering the opening keynote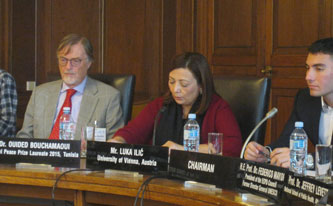 .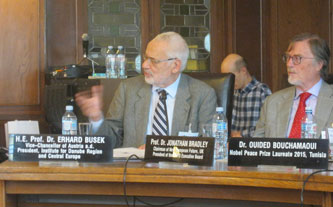 .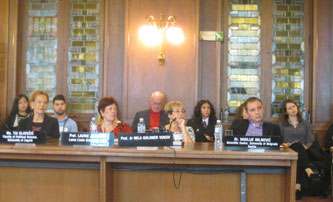 2015 Nobel Peace Prize Dr. Ouided Bouchamaoui giving her keynote; H.E. Prof. Erhard Busek speaking; other forum speakers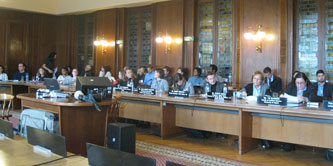 .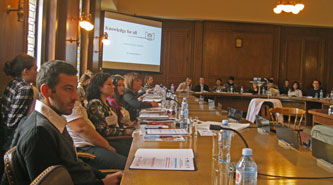 .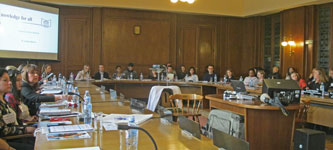 Participants in the Youth Forum from many countries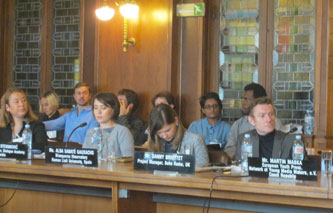 .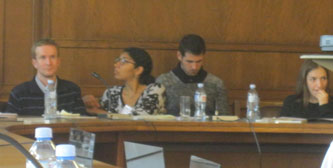 .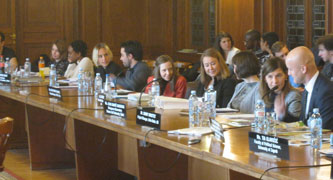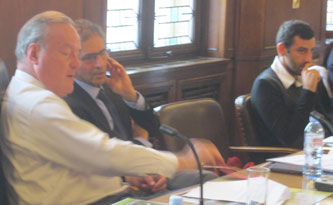 .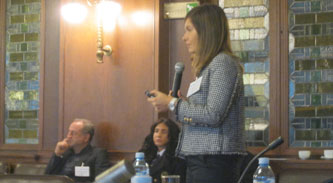 .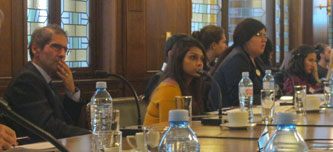 Nicholas Maclean and Dr. Farhang Tahzib, who spoke on the Youth Spiritual Empowerment Programme; Alba Sabatè Gauxachs reporting on youth and religion; Dr. Tahzib and participants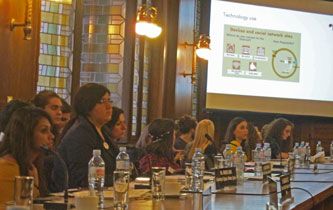 .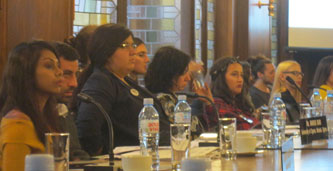 .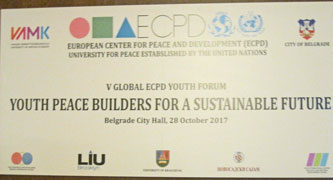 Participants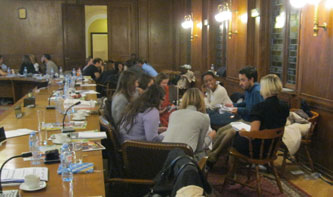 .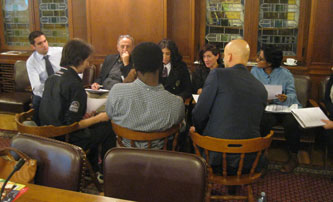 .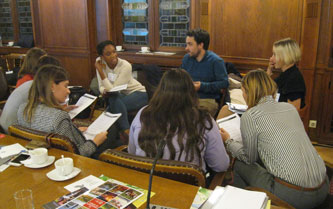 Working groups each preparing part of a group exercise on developing a social media campaign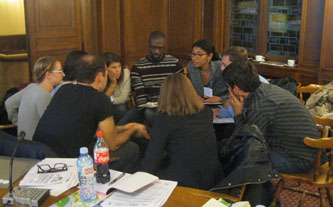 .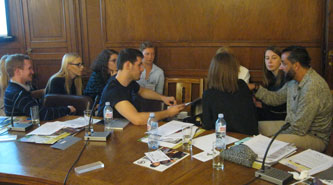 .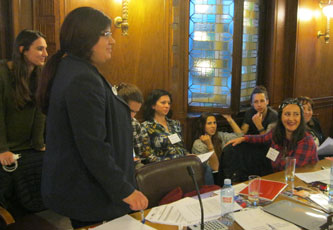 Groups at work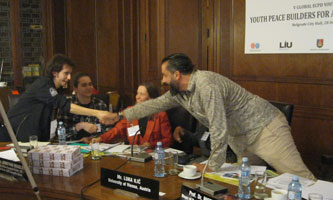 .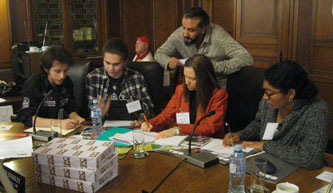 .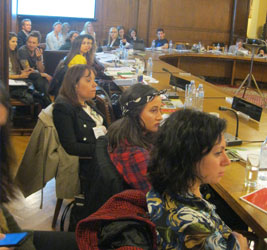 Working group leaders integrating their assignments; participants listen to the group reports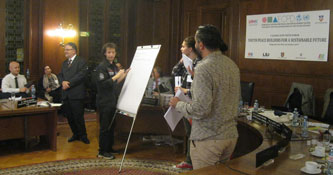 .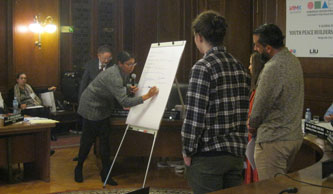 .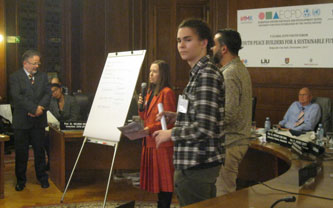 Reporting on the group exercise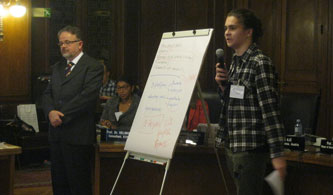 The participants in the Youth Forum went away stimulated, encouraged and motivated to work even harder for peace and sustainability.


---