A visit to the Louvre, Paris
I had a day in Paris on 23 July 2017 after my son and grandchildren left for Quebec, so I spent the day at the Louvre museum, which I had not visited for over 55 years. Much of the art is the same, but major parts of the museum have been remodeled, and the new pyramid entrance in the central courtyard can cope with the large number of visitors. The following pictures of both the buildings converted from a royal palace to a museum by Napoleon and added to by Napoleon III, and of a selection of works of art that caught my eye and were possible to photograph in difficult lighting, should give you an impression of what it is like to visit the Louvre, one of the world's great museums. Most of the art works are not identified by artist, title or epoch, but many are world-famous.

The Louvre
The former royal palace, on the foundations of a medieval castle that can now be visited, has been extensively added to as a museum since its foundation by Napoleon, with a central complex around courtyards and two long wings extending to the Tuileries Gardens. With three storeys of exhibitions, plus sculpture in the courtyards, the surface is immense. The collections include paintings, sculpture, archaeological finds, decorative arts and furniture from many cultures and epochs, building originally on the collections of the kings of France. It would take many days to view everything. The new main entrance under the glass pyramid in the central courtyard provides separate access to the different parts of the museum.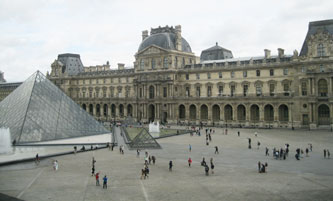 .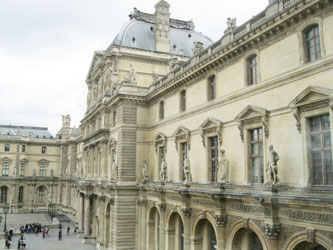 .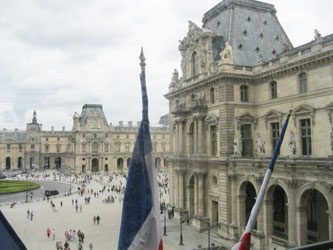 The main parts of the museum around the central courtyard with the entrance under the glass pyramid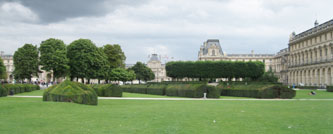 .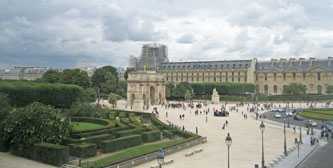 .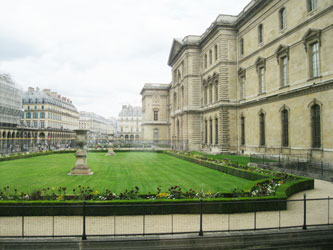 The gardens between the two wings are an extension of the Tuileries Gardens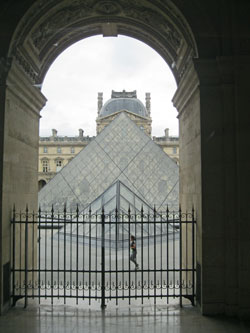 .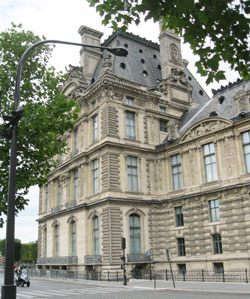 .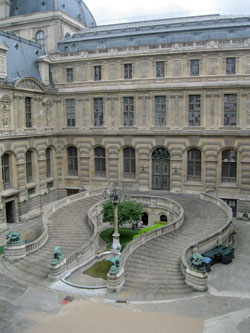 Different additions have maintained a harmonious style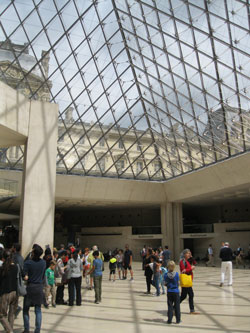 .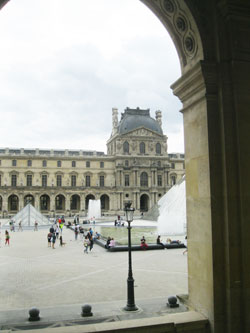 .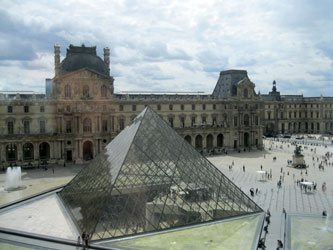 The vast space under the pyramid handles thousands of visitors

The galleries and collections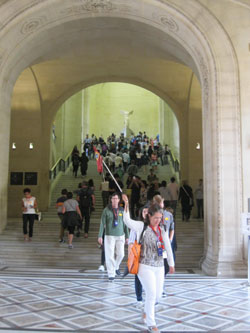 .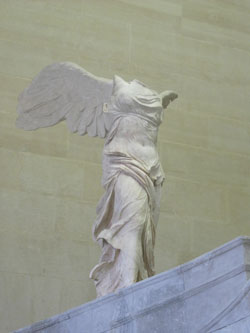 .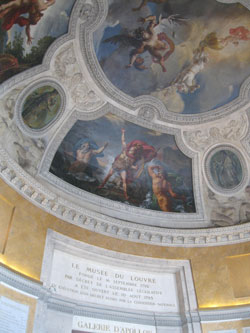 The usual starting point is the main staircase with the Winged Victory of Samothrace; decorated ceilings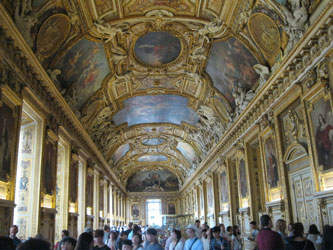 .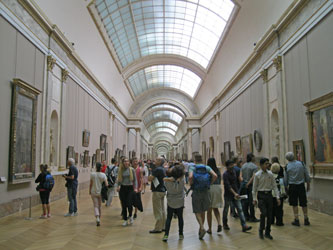 .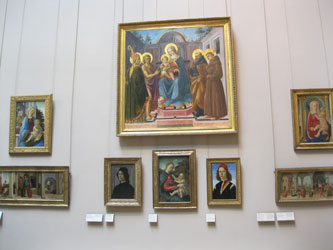 The great galleries of the painting collection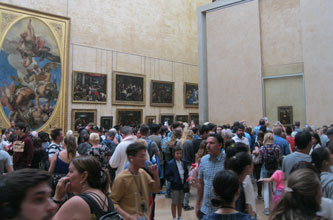 .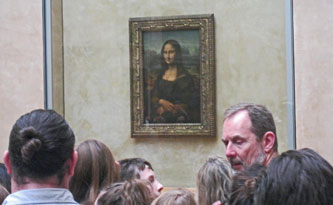 .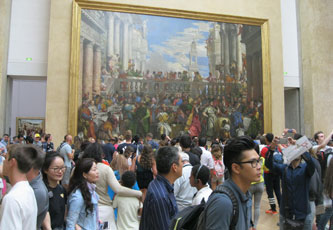 Everyone wants to see Leonardo da Vinci's Mona Lisa and other great masterpieces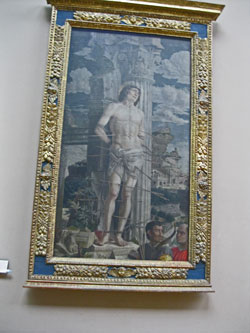 .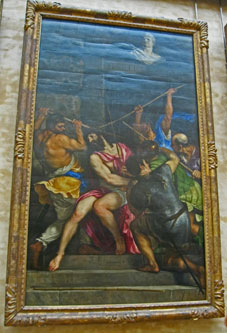 .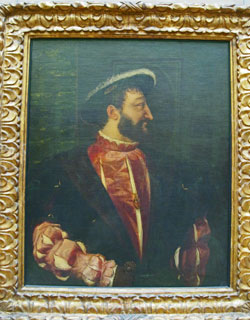 .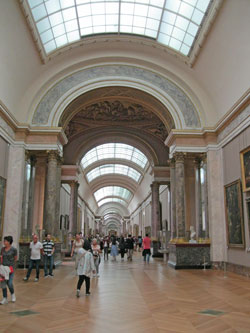 Subjects include St. Sebastian (left) and King Francis I (second right)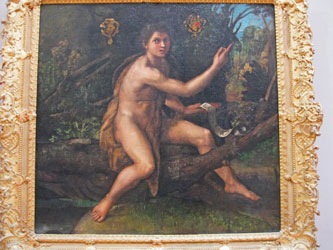 .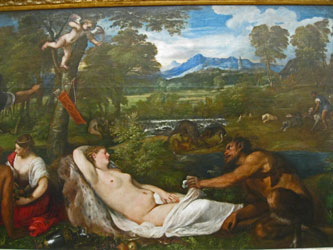 .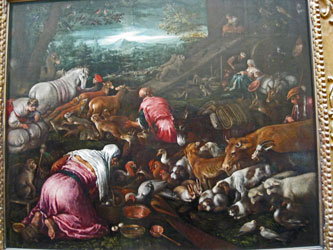 Paintings of many styles and epochs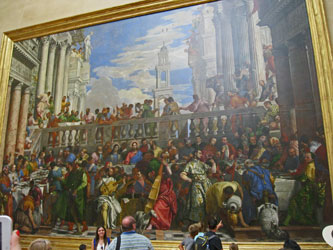 .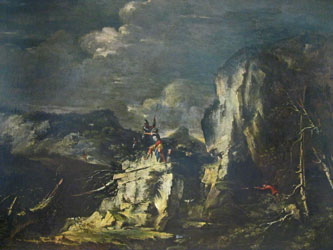 .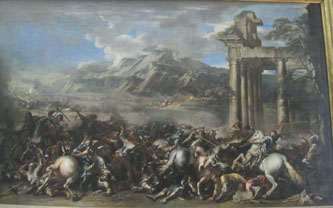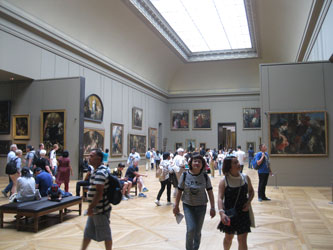 .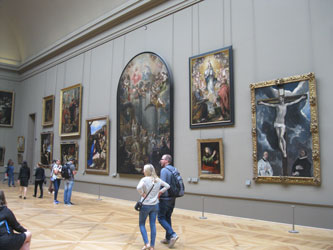 .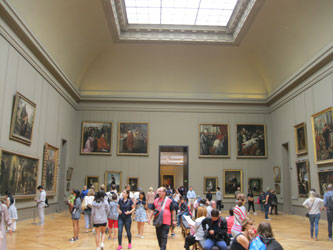 Endless Louvre galleries filled with paintings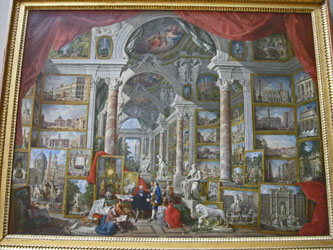 .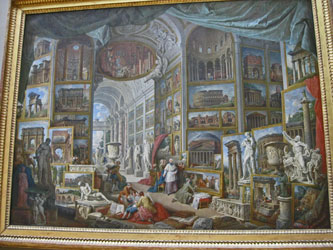 .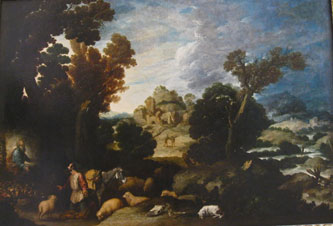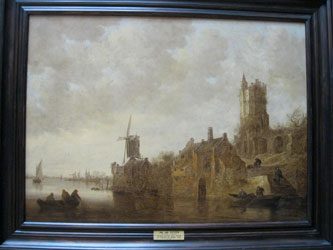 .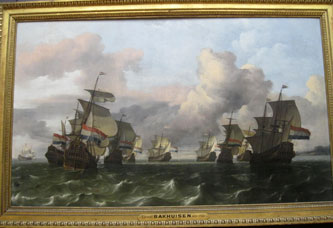 .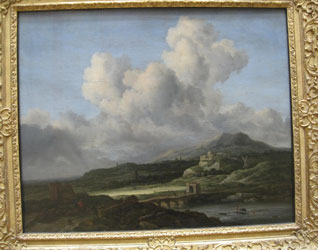 Dutch masterpieces 1600-1700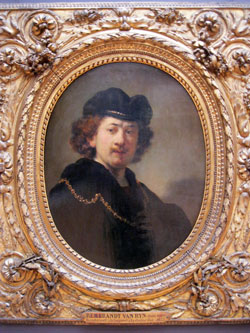 .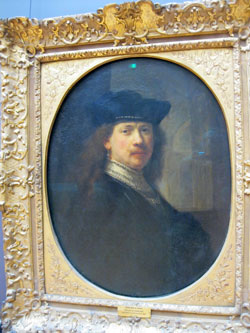 .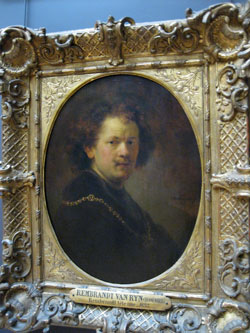 .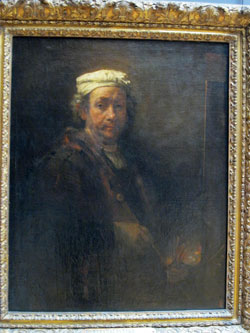 Five self-portraits by Rembrant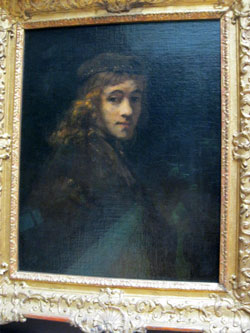 .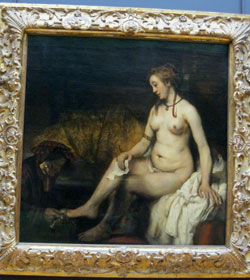 .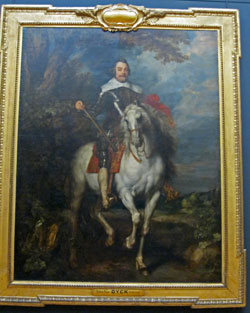 Young self-portrait by Rembrant; another old master; van Dyck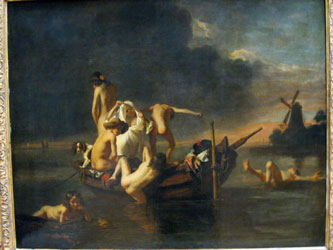 .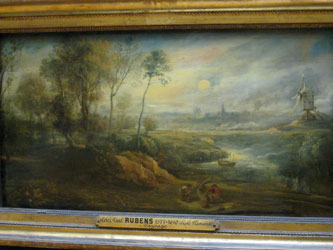 Other old masters including Rubens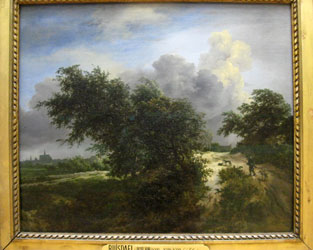 .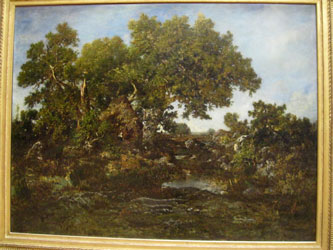 Comparison of van Ruisdael 1650 and Theodore Rousseau 1850, one inspiring the other

Sculpture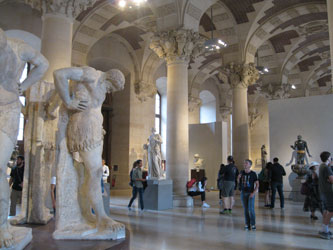 .
.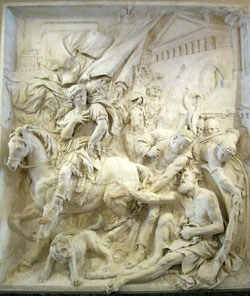 Classic works from Greece and Rome, and more modern work down through the centuries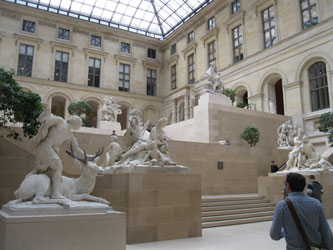 .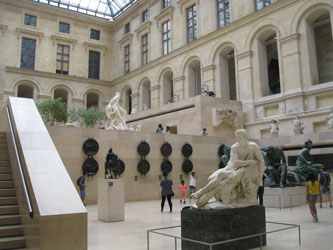 .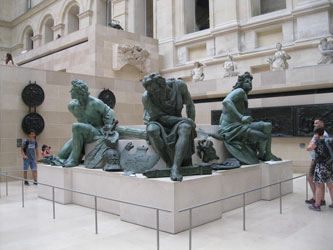 Many sculptures are shown in enclosed courtyards within the museum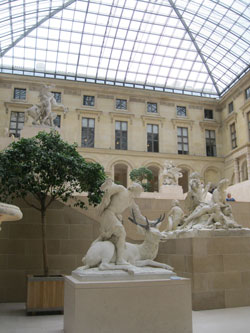 .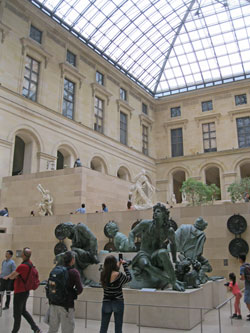 .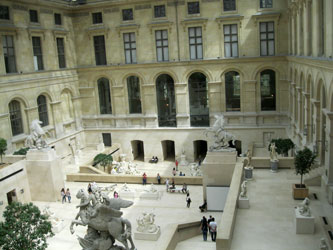 Great works from ancient civilizations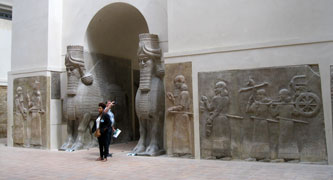 .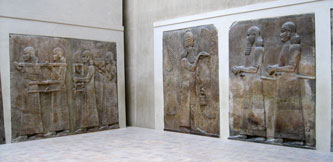 .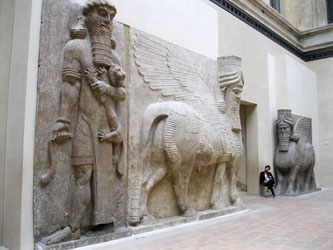 Assyrian sculpture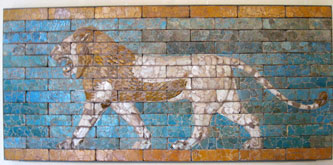 .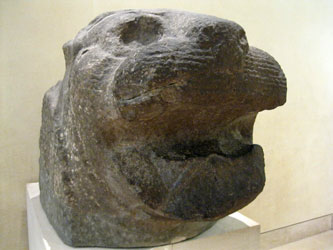 Apartments of Napoleon III
When Emperor Napoleon III made additions to the Louvre, he included his own luxurious apartments, which can now be visited.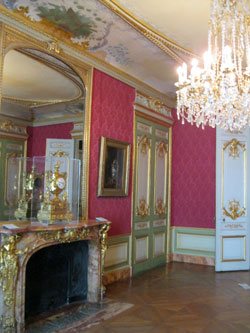 .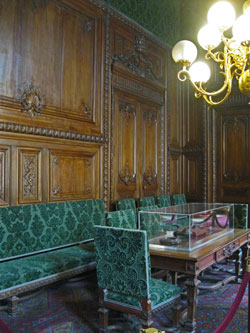 .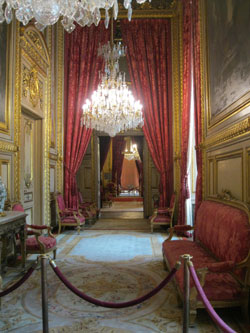 .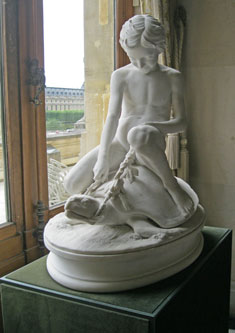 Waiting rooms; works of art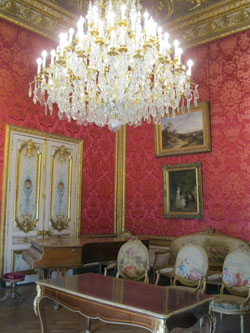 .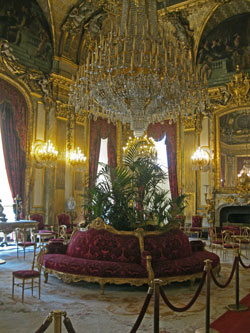 .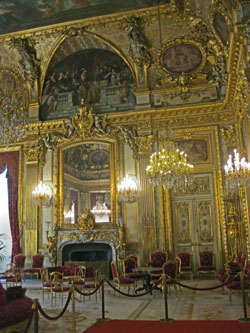 Music and reception rooms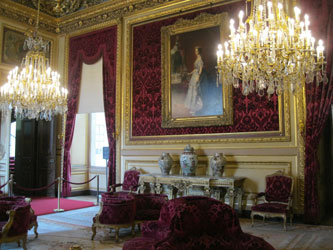 .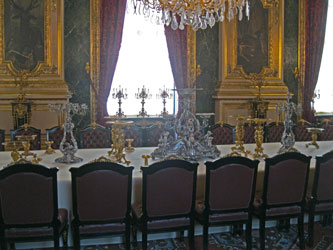 .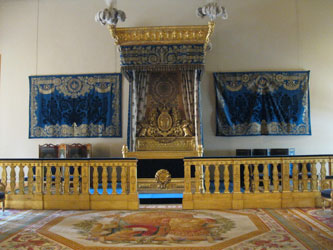 Reception and banquet rooms; a royal bed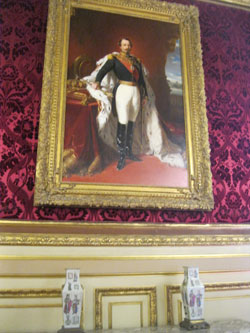 .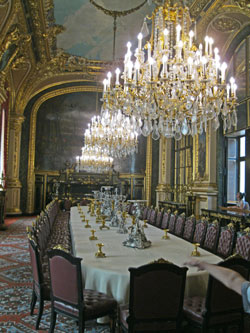 .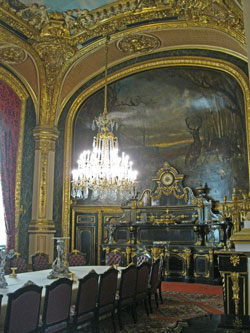 .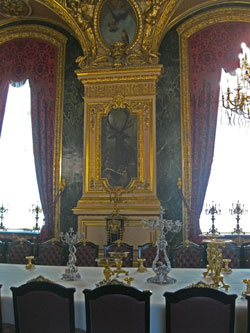 Portrait of Napoleon III; the banquet room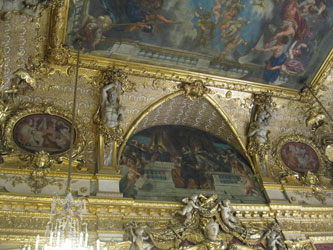 .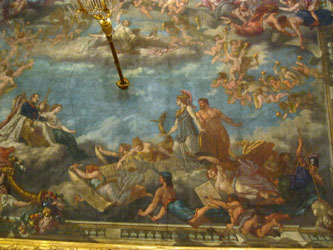 Richly-decorated ceilings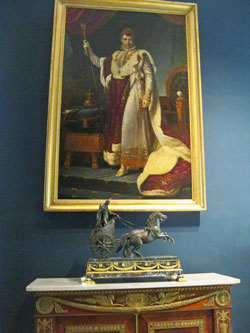 -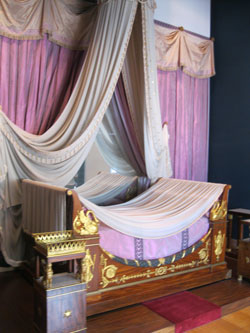 Portrait of Napoleon I; a bed from the furniture collection

This is only a small sampling of the richness of the Louvre collections


---