New Zealand
On 2-16 April I traveled half way around the world to New Zealand where the International Environment Forum was holding its annual conference, including the co-sponsorship of a sub-plenary session of the IUHPE 23rd World Conference on Health Promotion in Rotorua. See the report on the IEF web site. In Auckland I stayed on the North Shore with old friends Nizar and Margaret Mohamed, since Nizar and I are teaching a course together for the Baha'i Institute of Higher Education. The day after my arrival, our first IEF event was a seminar at the Auckland University of Technology (AUT) organized by IEF member Marjo Lips-Wiersma, Professor of Ethics and Sustainability Leadership. This was followed by the 23rd Annual General Assembly of IEF, with most participants remotely on Zoom. On 7-11 April I was in Rotorua for the World Conference on Health Promotion, organized and co-chaired by Sione Tu'itahi, where I gave a paper in addition to participating in the sub-plenary panel. On my return to Auckland, I was interviewed on Radio New Zealand about the decline of coral reefs, and spoke at two meetings in the Browns Bay Baha'i Hall in North Auckland and the Baha'i Centre in Auckland, before catching the long flight back to Switzerland.

.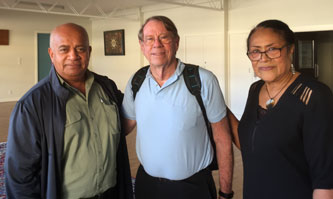 Auckland skyline from North Shore; Baha'is Sione and Tuhoe Tu'itahi and Arthur Dahl
IUHPE 23rd World Conference on Health Promotion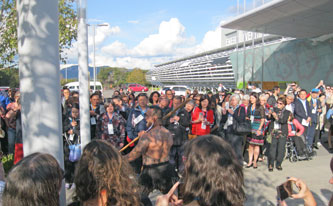 .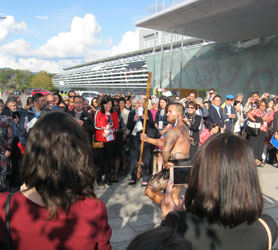 .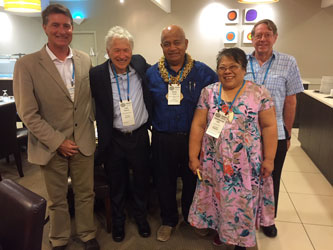 Traditional Maori greeting before the opening; panel on community, spirituality and health promotion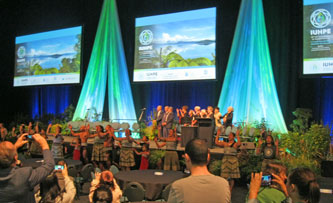 .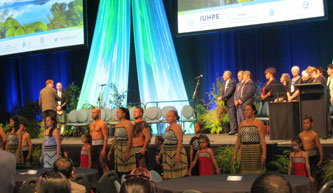 .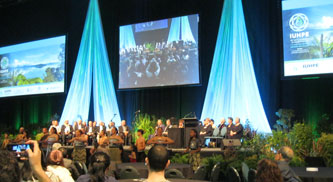 Conference opening with Maori dance and music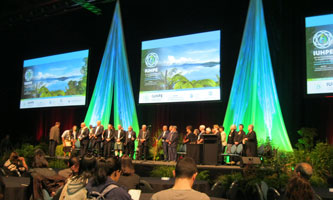 .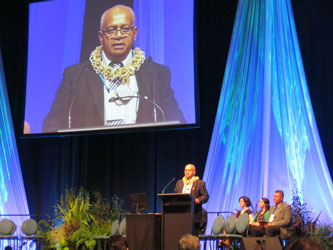 .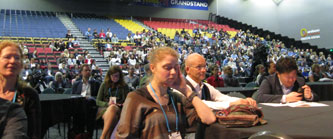 Conference opening; Sione Tu'itahi at opening; part of audience
After the Health Promotion Conference, I spoke on 12 April at the Browns Bay Baha'i Hall on "Global Governance, Climate Change and Solutions". On 14 April, we had an afternoon programme at the Auckland Baha'i Centre on "One World, One People, One Health". After Sione Tu'itahi spoke, I made a presentation on "Guidance for Socially- and Environmentally-coherent Action" based on recent messages from the Universal House of Justice.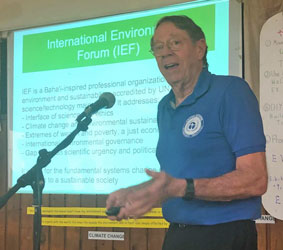 .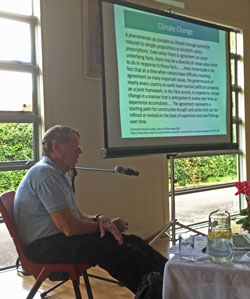 .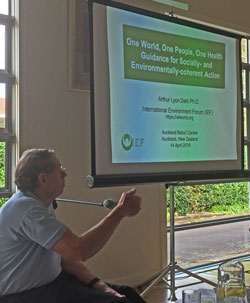 Speaking at Browns Bay Baha'i Hall; speaking at Auckland Baha'i Centre
Rotorua is a centre of thermal activity with hot springs, sulphurous gases and steaming geysers around Lake Rotorua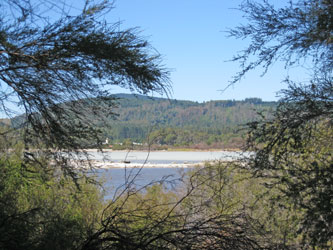 .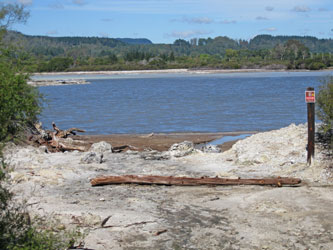 .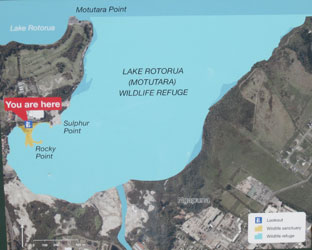 Lake Rotorua
.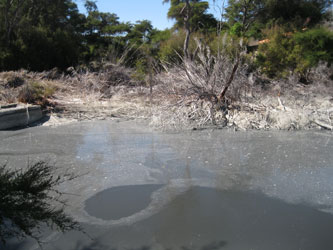 Lake Rotorua; hot vents from volcanic activity next to the conference centre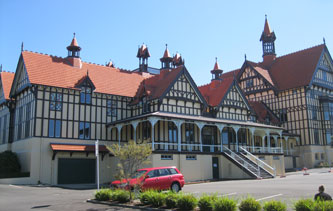 .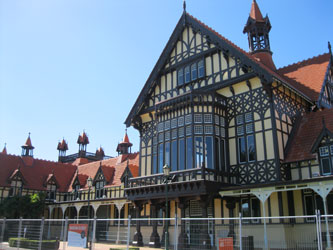 .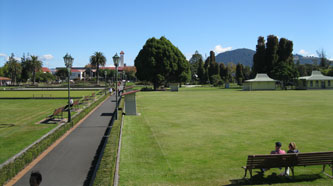 Rotorua Museum in Government Gardens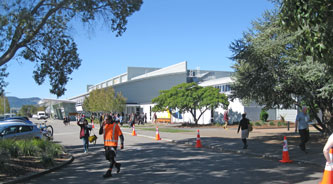 .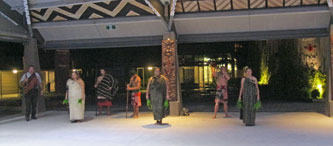 .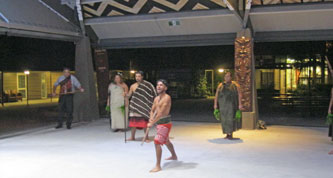 Energy Centre in Government Gardens where IUHPE Conference was held; Maori welcome for our evening visit to hot springs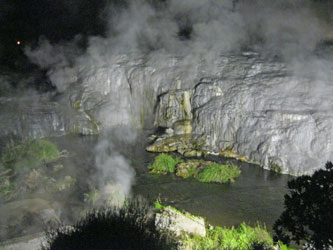 .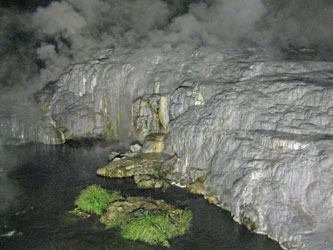 .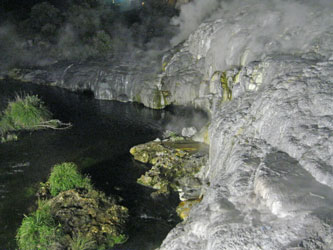 Night visit to hot springs
One morning my Baha'i friend and IEF member Sylvia Aston took me with her daughter and grandson to visit a grove of redwoods, planted to see how well they would adapt to New Zealand. A walkway is suspended on cables among the tree trunks.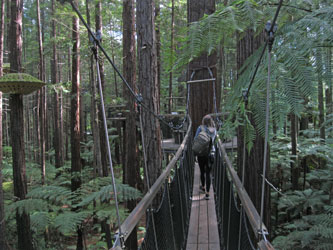 .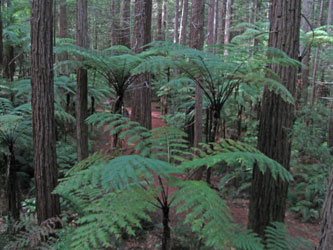 .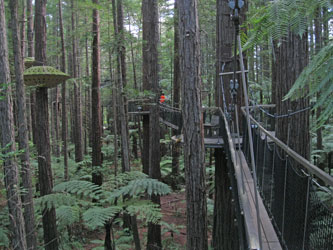 I took some time off to visit the walkway in a Redwood Grove with friends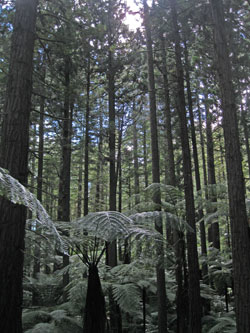 .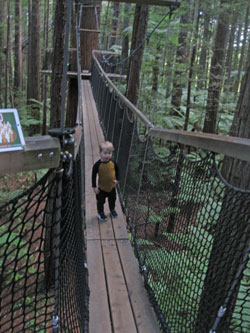 .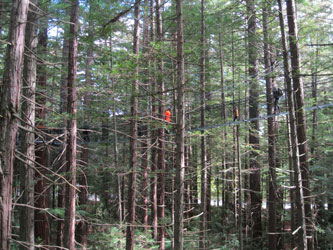 Suspended walkway in the redwoods; Sylvia's grandson

---