Travel 2022
My travel began again in 2022 as the COVID pandemic receded, although I seldom had time to take pictures. I gave a plenary talk at the Justice Conference in the Netherlands in April, discussed our proposals for Global Solidarity Accounting at the ebbf - Ethical Business Building the Future annual conference in Lisbon in May, participated in the Stockholm+50 International Meeting and International Environment Forum (IEF) Annual Conference in Stockholm in June, and then the UN Ocean 22 Conference in Lisbon at the end of June, before teaching on participation in public discourse at the Danish Bahá'í Summer School in July. August was special, as my son organized a family reunion to celebrate my eightieth birthday, with my wife, children, grandchildren and great-grandson, thirteen in all, at a resort on the Yucutan Peninsula, Mexico. I participated in an ebbf retreat at Acuto, Italy, at the end of September, and went to Belgrade in October to chair the European Center for Peace and Development Youth Forum. My last trip was to India in mid-November for the Global Governance Forum (see separate page).
---
Stockholm
I travelled to the United Nations Stockholm+50 International Meeting 1-5 June where the International Environment Forum organized events as its 26th Annual Conference.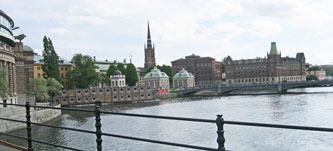 .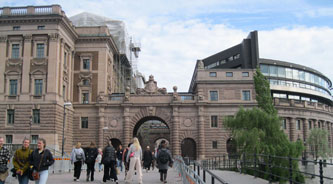 Stockholm; Swedish Parliament
The morning of 1 June the Bahá'í International Community organized an event in the Swedish Parliament on Global Environmental Governance: Ethical Foundations and Practical Proposals and launched its new statement One Planet - One Habitation. Immediately after I was recorded in a conversation with Erik Halkjeer, the editor of the magazine Swedish Nature that published a profile of me in April. In the afternoon we collaborated in Interfaith Prayers for the success of Stockholm+50 near the Swedish Parliament. On 2 June the UN Environment Management Group held a side event with heads of UN agencies where I was the first invited to comment, as a veteran of Stockholm 1972. As an example of sustainability, I wore the same jacket as in 1972.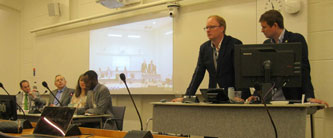 .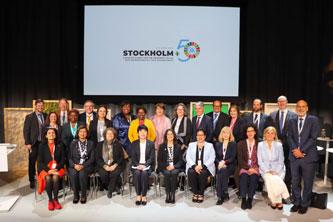 .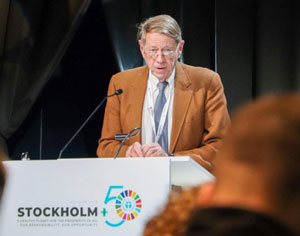 BIC event in Parliament; group photo at EMG event (I am in last row second from left); me speaking at EMG event (in 1972 jacket)

On Friday 3 June the IEF organized a virtual event Global Systems Accounting Beyond Economics where I was a panelist. Our Global Governance Forum collaborated with the Global Challenges Foundation on Saturday 4 June in an all day consultation where I moderated a session on reform of the multilateral system. Our IEF event on Saturday 4 June was on Empowering Local Sustainable Communities. On Sunday 5 June I was again a panelist with several youth on Intergenerational Perspectives on Visions for the Future. We then participated in a feast at the National Bahá'í Centre.
At the Academic Council of the UN System annual meeting in Geneva on 23-25 June, I was asked to speak in a session on Human Rights and Global Governance, and was co-author on a paper with Sylvia Karlsson-Vinkhuyzen. I went to Lisbon on 27 June-1 July to participate in the UN Ocean Conference 2022. The same week, in a pre-recorded presentation for the Eco-Social Summit, Wendi Momen, Jenna Nicholas and I spoke on Rethinking the role of business: an exploration offered by three ebbf members.
---
Denmark
I went to Denmark on 25-30 July for the Danish Bahá'í Summer School at Kerteminde on Fyn, where I gave the main course on Preparing for public discourse with lectures on the environment, social justice, economic justice, peace and global governance, and discourse in local communities, as well as evening presentations on Mark Tobey and the Dedication of the Baha'i temples and two meetings with the youth.
---
Mexico
I had a wonderful family reunion in Mexico 1-7 August at Akumal Bay Beach south of Cancun with four generations (wife, children, grandchildren, great grandchild) to celebrate (slightly early) my eightieth birthday. We experienced animals in a monkey sanctuary, swam in cenotes, visited the Aktun Chen Nature Park and the Tulum Mayan sacred site, as well as enjoying the beach and pool.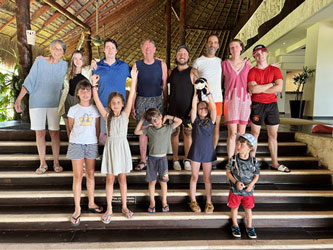 Family group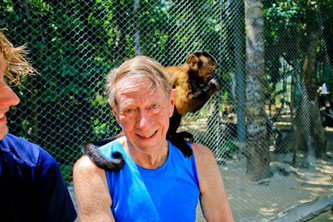 .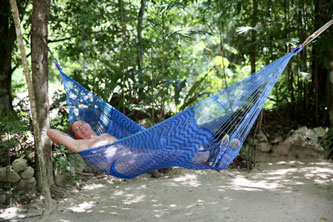 Arthur with monkey; Arthur in hammock waiting for the more adventurous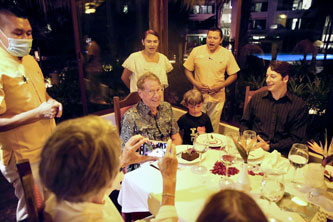 .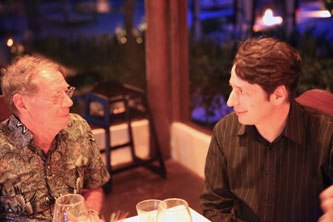 Arthur's 80th birthday party; Arthur and son Alex who made it all possible
---
Italy
I went to Acuto, Italy on 28 September-2 October for an ebbf - Ethical Business Building the Future governing board meeting and retreat to develop a nine-year plan for ebbf.


ebbf retreat at Acuto
---
Belgrade, Serbia
21-24 October saw me traveling to the European Center for Peace and Development in Belgrade to chair the 10th ECPD Youth Forum with youth from 29 countries. After the Youth Forum I was invited to an amazing piano concert where, after the virtuoso Japanese pianist presented a world premier composition, the piano had recorded the performance and played it again all by itself.
---
India
My trip to India 14-24 November for ten days with Augusto Lopez-Claros and Joshua Lincoln for the Global Governance Forum (see separate report), involved 15 presentations in Lucknow to 2,800 high school students, several universities and a conference of chief justices of the world, and 7 talks in New Delhi, mostly at universities, as well as an interview by famous Indian TV journalist, Vikram Bahl, for his programme Global View. My interview, titled by the journalist "Are humans also an endangered species?", was broadcast nationally and can be viewed on YouTube and followed as a podcast on Spotify, Apple podcasts and Google Podcasts.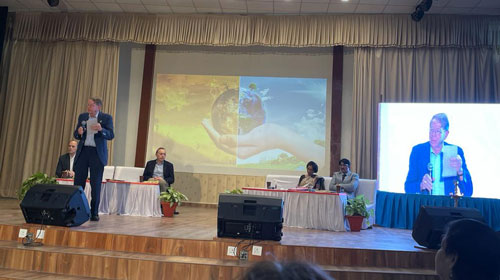 .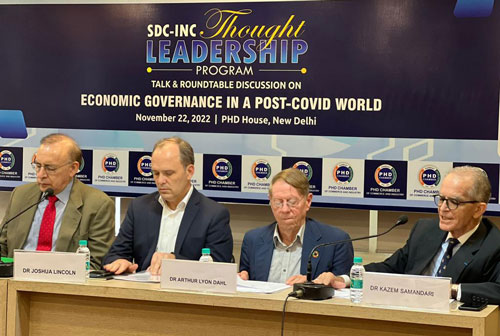 Speaking at Indian Institute of Management; panel at PHD Chamber of Commerce and Industry: Augusto Lopez-Claros, Joshua Lincoln, Arthur Dahl, Kazem Samandari
---