Swiss Climate Marches
The week of 20-28 September 2019 was a Global Climate Week for the Future, with world-wide student strikes on Friday and marches calling for action on climate change, inspired by 16-year old Swedish activist Greta Thunberg. Around the world, 7.6 million people participated over 6,000 events in 185 countries. The week coincided with the UN Climate Action Summit in New York on 23 September, where Greta Thunberg gave an impassioned speech.
About 4 million people took part in climate demonstrations on the first Friday alone. There were 330,000 in Australia, 100,000 in Berlin and Melbourne, about 250,000 in New York, 35,000 in Paris. In the Solomon Islands, children marched into the sea to protest against rising sea levels threatening their communities. Pictures of the march in Vanuatu made the international news. In Geneva, I joined a first small demonstration at the Place des Nations near the UN Palais des Nations on Friday 20 September.
Place des Nations, Geneva, Friday 20 September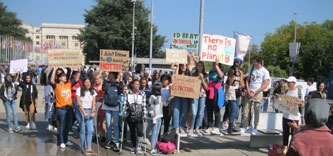 .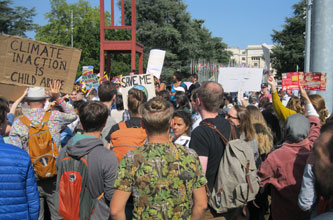 .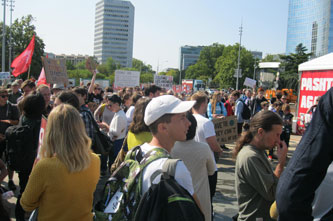 Students and other supporters demonstrating at the Place des Nations
.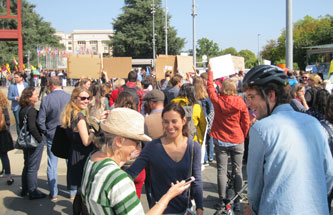 .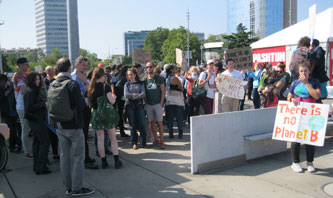 Geneva climate strike and march, Friday 27 September
The next Friday there were climate strikes and demonstrations in about 30 swiss cities. In Geneva, a massive march for climate action led from near the train station across the Pont du Mont Blanc through the centre of the city, ending at the Plainpalais beyond the old town. There were thousands of participants, mostly students but with many older people in support. It was similar to the event on 15 March 2019. My placard read "Values change, not climate change" with a link to the International Environment Forum page on climate change.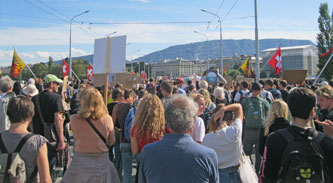 .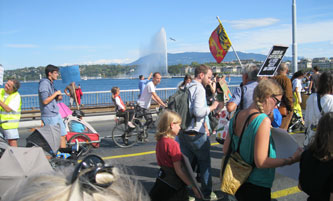 .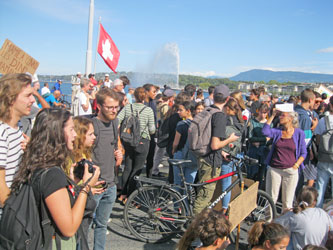 Crossing the Pont du Mont-Blanc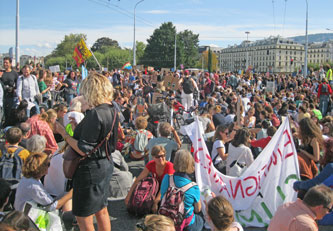 .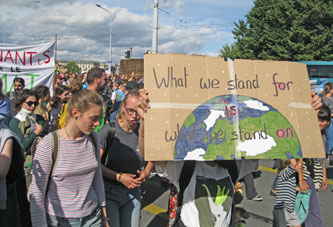 .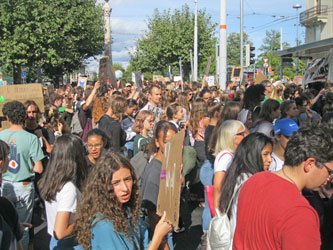 .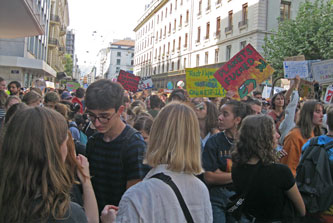 .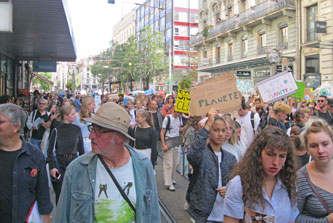 The cortege wound through the city center, along main streets lined with stores and banks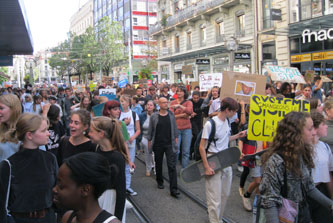 .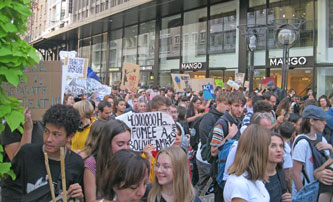 .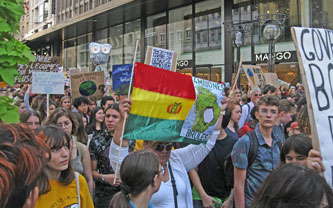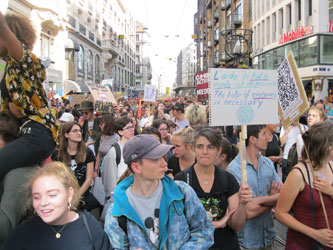 .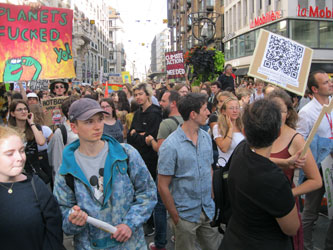 .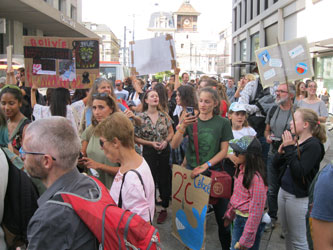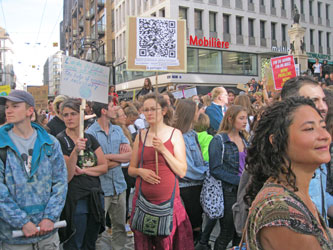 .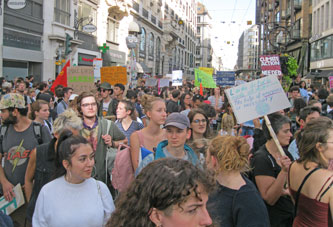 .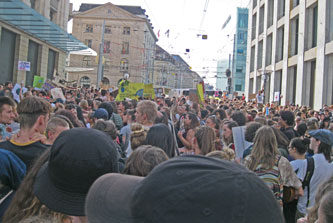 National March for Climate, Bern, Saturday 28 September
After local student climate strikes and marches on Friday, there was a national climate march in the capital, Bern, on Saturday 28 September. I went by train, and even with 14 extra trains put on from all over Switzerland, there were still people standing in the aisles and sitting on the stairs going and returning. 1,000 came by bicycle along 30 predefined routes from different parts of the country.
An estimated 100,000 people crowded into the narrow streets of Bern, probably twice as many as could fit into the Bundesplatz/Place Federal before the Federal Parliament building, where it was almost impossible to move. It took us two hours just to inch our way from the train station the short distance to the Federal Parliament. Many were never able to get to the Place Federal, stuck in side streets.
There were speeches, including by a Nobel Prize winning scientist criticizing the consumer society, and an indigenous militant from Borneo calling for a boycott of products linked to rain forest destruction. Church bells rang all over the city including the cathedral, supporting participation from 150 parishes. All generations were represented, including many older people and families with small children. A lot of effort and imagination went into the placards and other objects that people carried, including many made by children.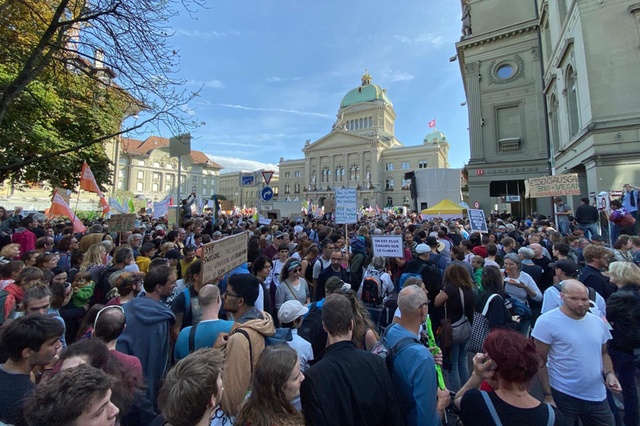 Packed Place Federal/Bundesplatz (photo swissinfo.ch)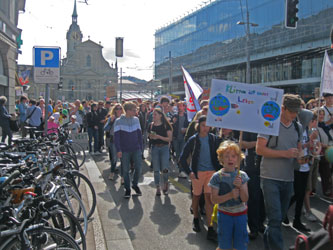 .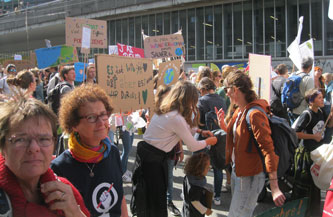 .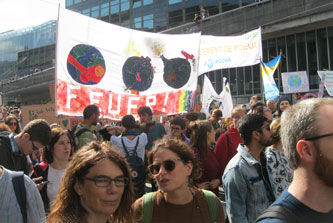 Leaving the train station, crowds merged slowly from different locations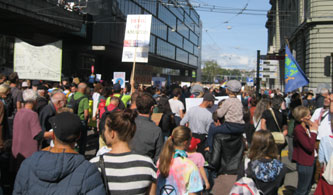 .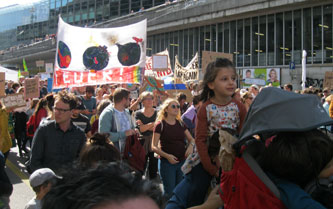 .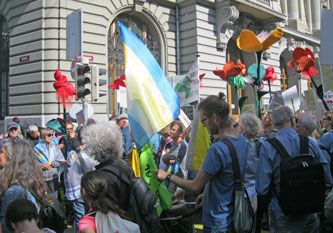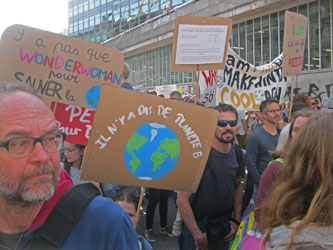 .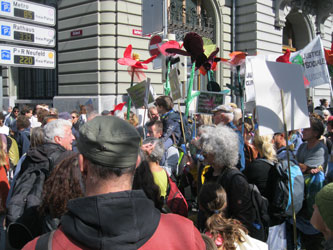 .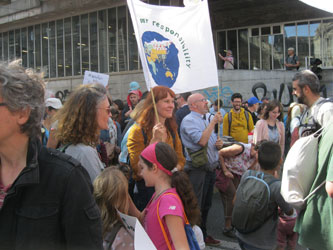 There were placards in German, French and English, mostly home-made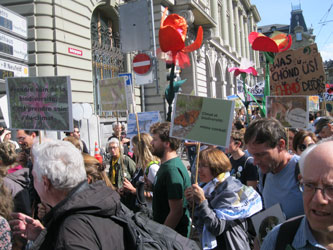 .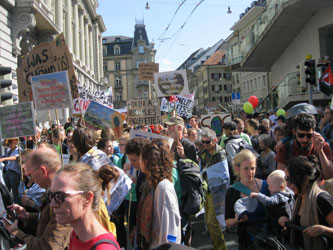 .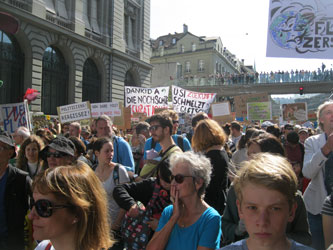 The atmosphere was festive; there were chants for climate justice now, and for an economic revolution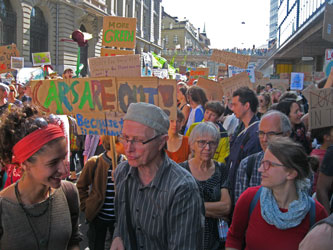 .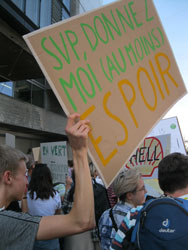 .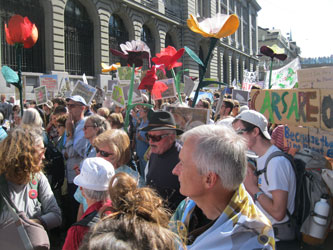 A youth makes a plea for hope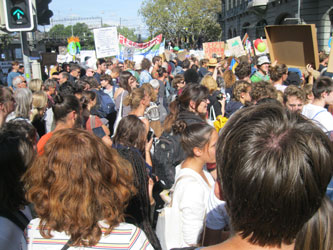 .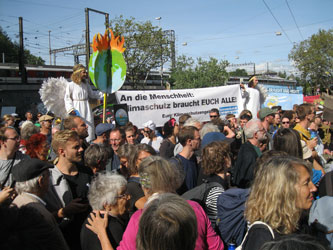 .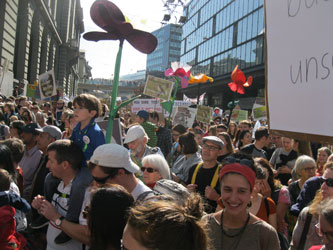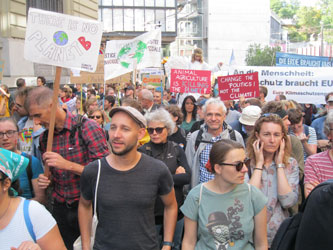 .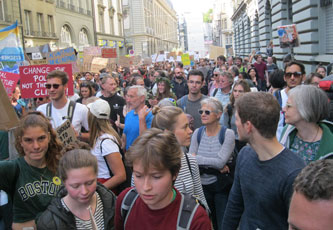 .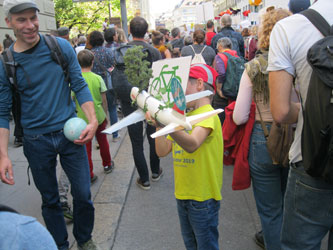 Some showed great imagination; a boy "greened" an airplane with a tree and vines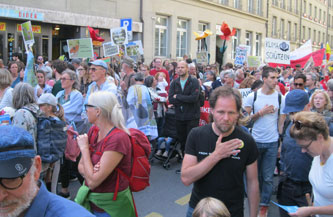 .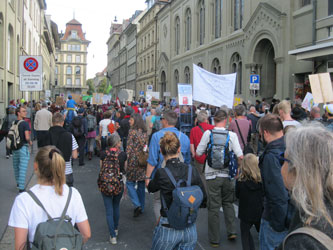 .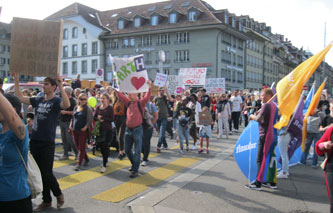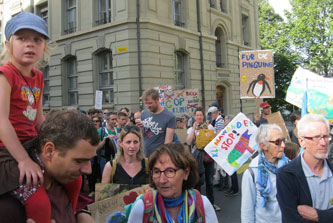 .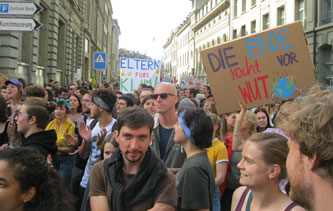 .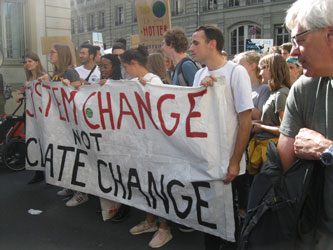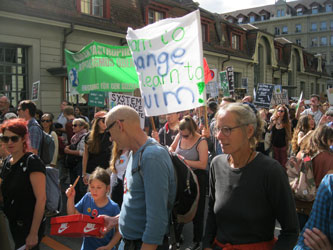 .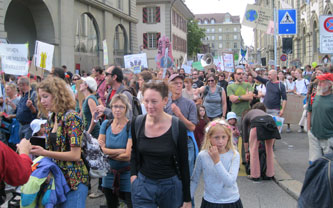 .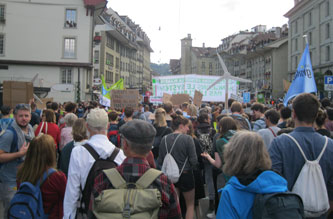 All generations were represented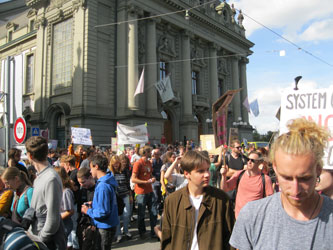 .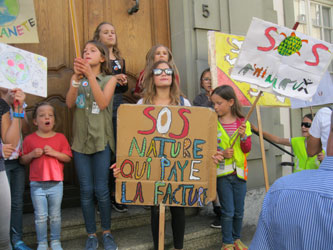 .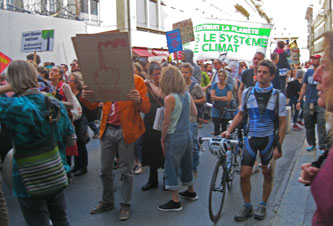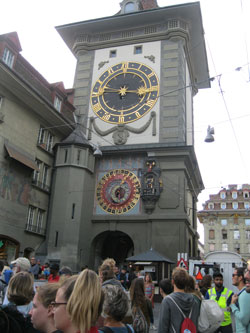 .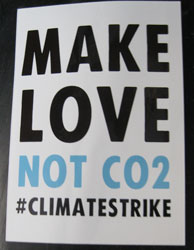 .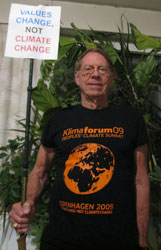 .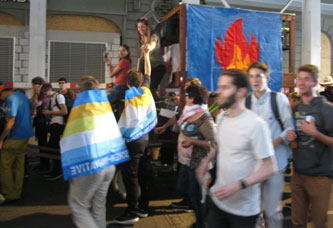 Clock, famous Bern landmark; sticker seen everywhere; me with my placard and t-shirt from the 2009 Climate conference in Copenhagen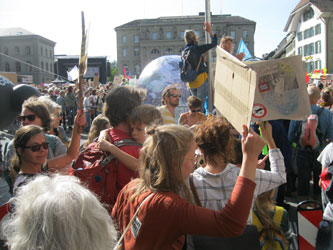 .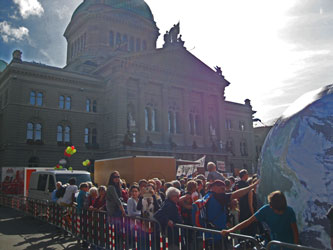 .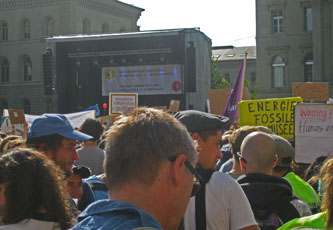 Massed crowd in the Bundesplatz; stage for speeches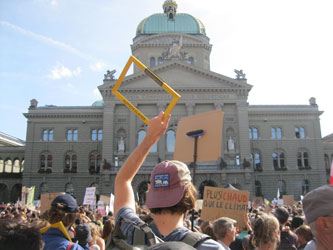 .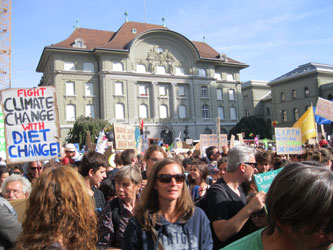 .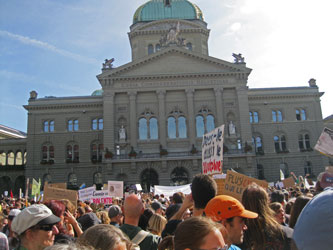 Bundesplatz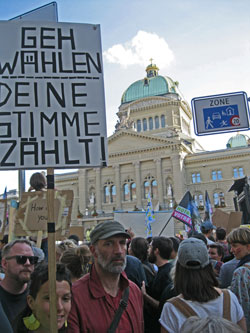 .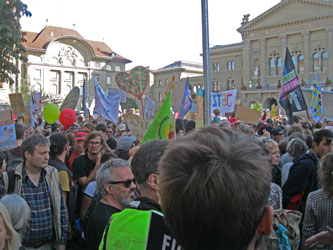 .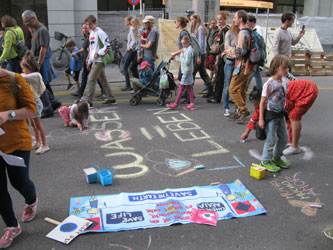 Bundesplatz; children drawing in the street leaving the Bundesplatz
---