(Letter written on behalf of Shoghi Effendi, 17 February 1933, Compilation on Social and Economic Development, p. 4)

I have had the chance to live in some beautiful and interesting places in my life, and this page documents some of them. Restoring old houses, designing and building gardens, and making paths through the forest have been my favourite recreational activities since I was a teenager. Creating beauty and attractive surroundings can also have a spiritual effect, and whenever possible, my homes were also intended to serve in some way the teaching of the Bahá'í Faith. See also my chalet page for one of my current residences and garden.
---
When our family moved to Pebble Beach on the central California coast in 1955, we build a home on Del Ciervo Road near Midwood Lane, on 3 acres of forest at the top of a canyon overlooking Carmel Bay and Point Lobos. There were four bedrooms downstairs for the four Dahl boys, and bedrooms upstairs for my parents, grandmother, a guestroom, and another bedroom used variously for a resident musician or foreign student. This was our family home during my teenage years and university studies. Since my parents were active Bahá'ís, we also hosted many Bahá'í visitors and events.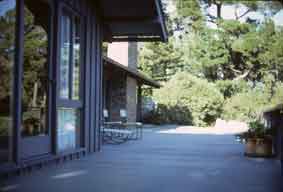 .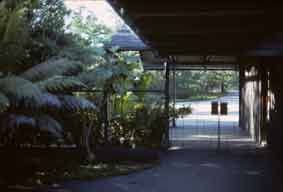 .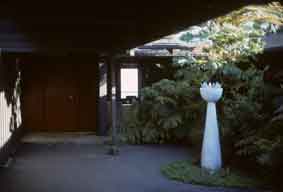 Deck overlooking the view; entrance garden; entrance towards front door with Emile Norman sculpture "High Nest"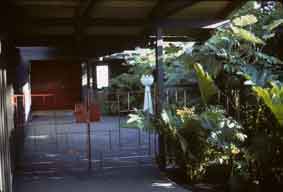 .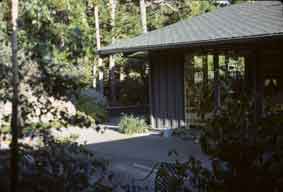 .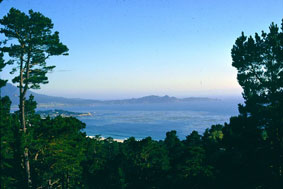 Front entrance; kitchen garden; view of Carmel Bay and Point Lobos from our deck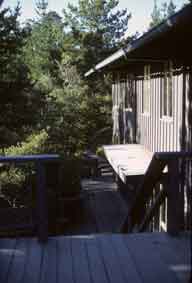 .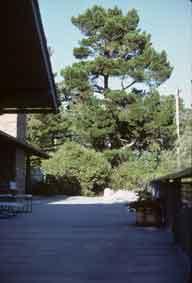 .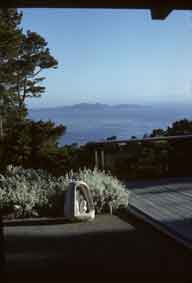 .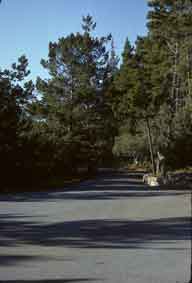 Bedroom wing; deck outside the living room and master bedroom; view with Emile Norman sculpture "Hiding Place"; driveway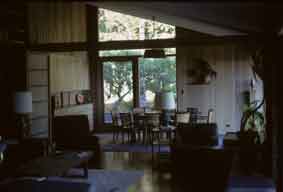 .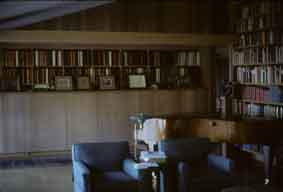 living room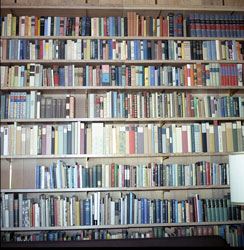 .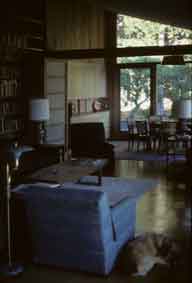 .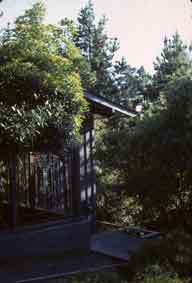 Part of Dad's library; living room; bedroom wing with forest canyon beyond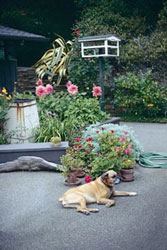 .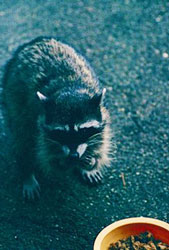 .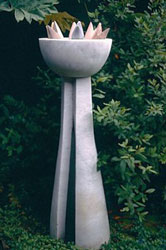 .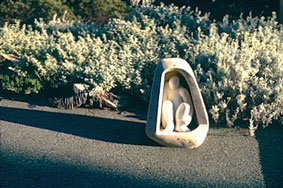 Becky in the garden; racoons came to visit; Emile Norman sculptures High Nest and Hiding Place
---
GOLETA, CALIFORNIA 1964-1969
During my years as a graduate student at the University of California at Santa Barbara 1964-1969, I lived in a small house with an ocean view a short distance from the campus in Isla Vista, at 6648 Del Playa Drive (it has now been replaced by an apartment building). The back yard was full of fruit trees (orange, peach, lemon, avocado, qumquat) and in the front yard I made a Japanese garden with pond, bridge and fountain. Students would come from the campus a short walk away for Bahá'í activities.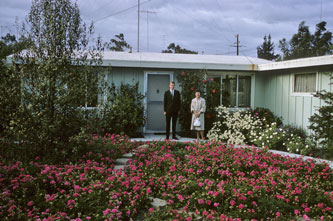 .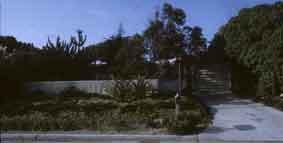 .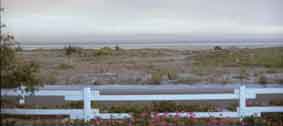 My house in Isla Vista, Goleta, as I bought it in 1964; house from the street; ocean view with Channel Islands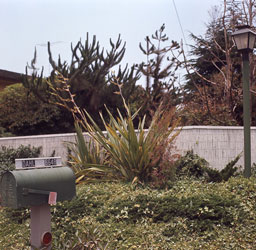 .
Front garden renovated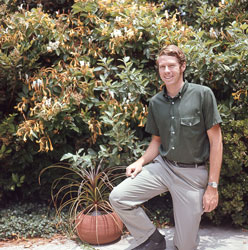 .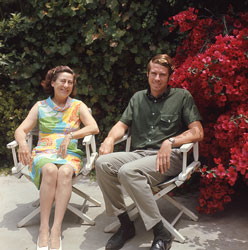 .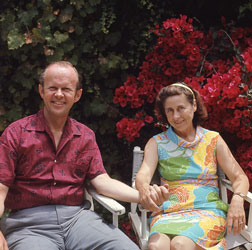 Me and my parents in the side patio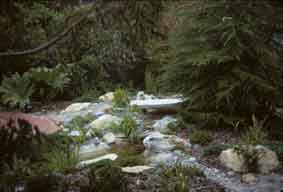 .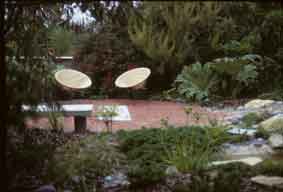 Front garden that I re-landscaped with pools and fountain 1967-68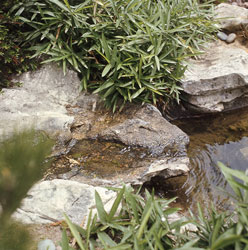 .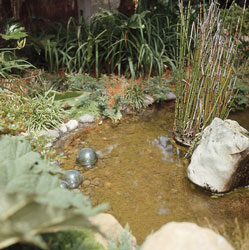 .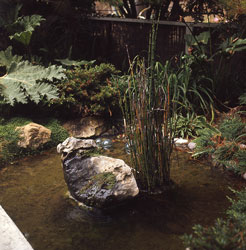 .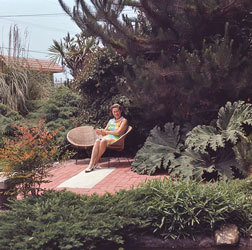 .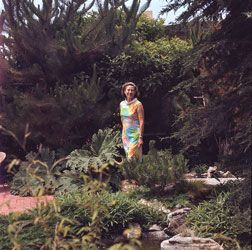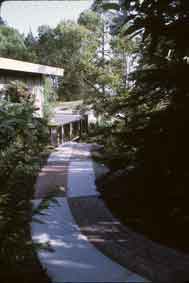 .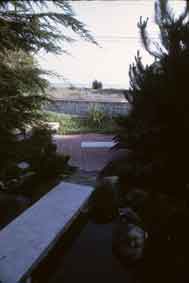 .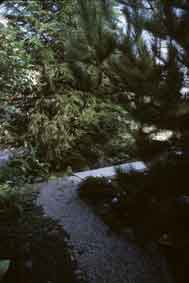 .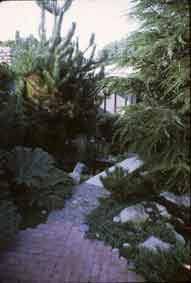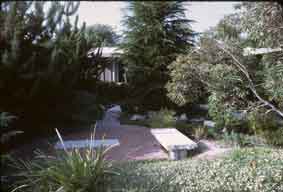 .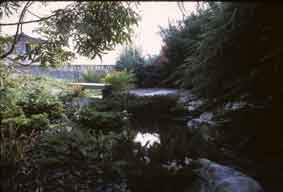 .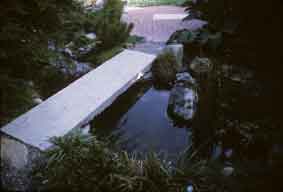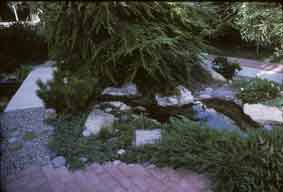 .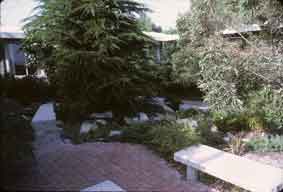 .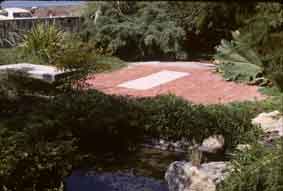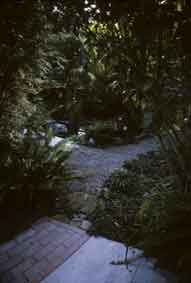 .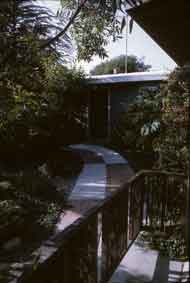 .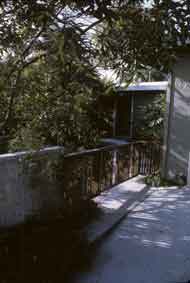 .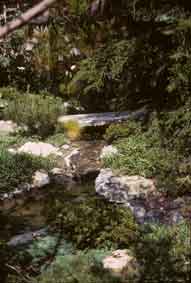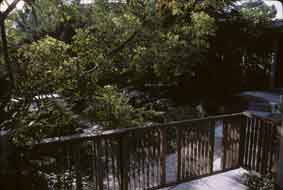 .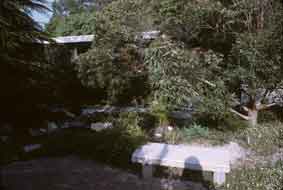 sliding cantilevered gate of my design

.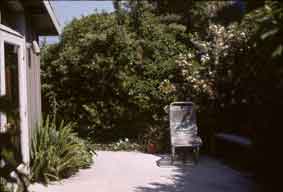 .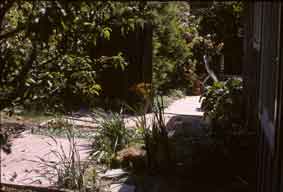 Living room; side patio; part of back garden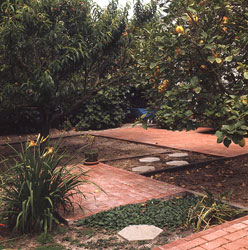 .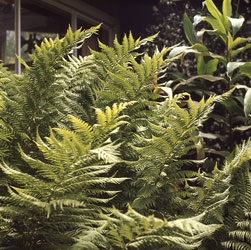 .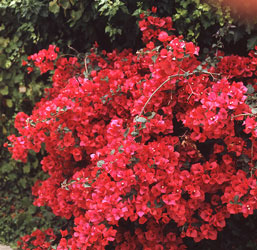 Back garden with fruit trees and flowers
---
When I was at the Smithsonian Institution from 1969 to 1974, I first lived in a small apartment in Washington, D.C. and then managed the Washington Baha'i Center on 16th Street, N.W., before buying a small townhouse in old town Alexandria, Virginia, at 409 Queen Street. It had three stories, with a kitchen and dining room with fireplace below street level, opening onto a long narrow garden with some shade trees, which I landscaped. The middle floor had a living room with fireplace and my office, and upstairs there were two bedrooms. It was built between 1790 and 1805 on a plot of land that George Washington had surveyed when he was 18 years old, and was registered with the other houses on the block as a historic place. There were holes in the attic between the houses that were part of the underground railway, when escaping slaves would pass from house to house to get down to the Potomac River, and hopefully to freedom on the other side. The wooden house was in bad condition when I bought it for $30,000, but I restored it. It was just at the border between the white and black neighbourhoods, so everyone could feel comfortable coming there. My weekly Baha'i coffee house on Saturday nights attracted 20 to 70 young people with live music and conversation in a cosy atmosphere.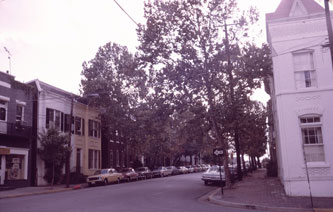 .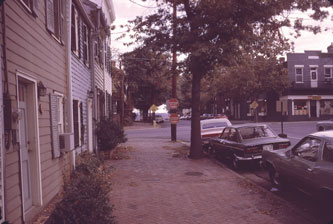 .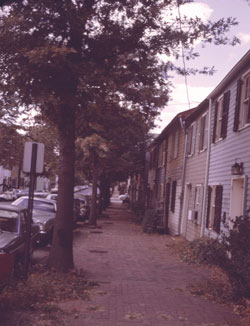 The block of Queen Street where my house was located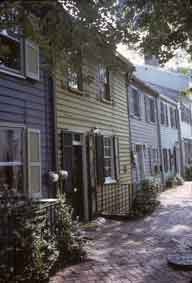 .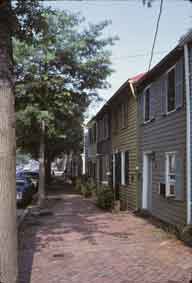 .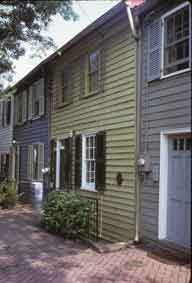 .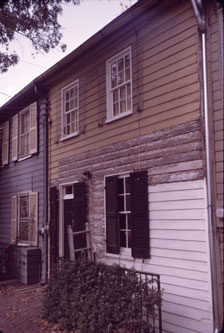 My townhouse (light green with green shutters) with its historic plaque; stairs down to the kitchen; the house during restoration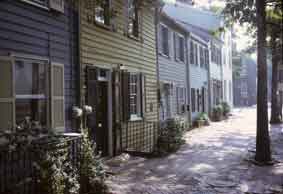 .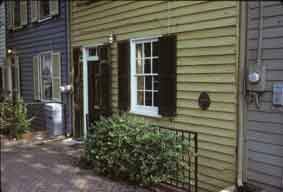 .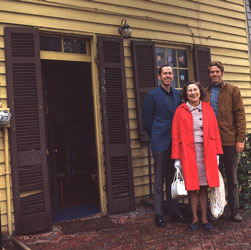 Alexandria town house; Keith, Mother and me before restoration 1971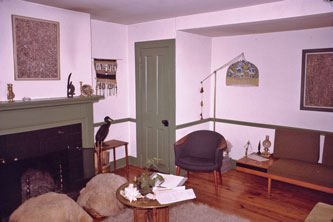 .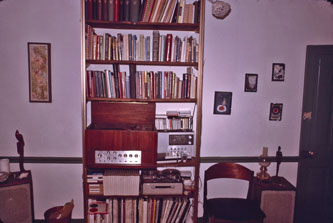 .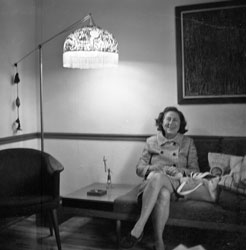 The living room; Mother in the living room 1971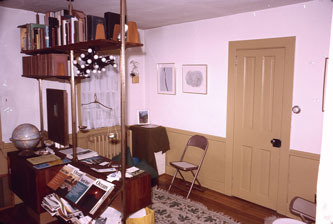 .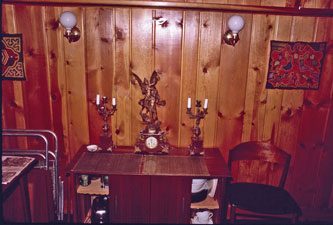 .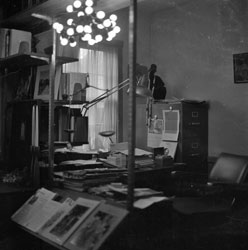 The back room at street level; dining room downstairs; back room with my desk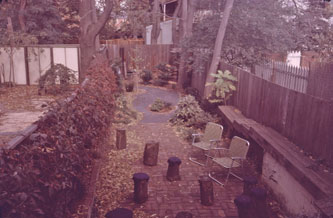 .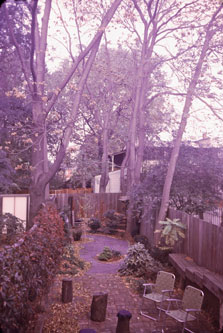 .

Back garden off the dining room downstairs
---
NOUMEA, NEW CALEDONIA 1974-1985
Mont-Dore
We built a home on a mountainside in Mont-Dore in 1976. It had seven sides to fit on the one solid outcrop on our sloping lot, with the bedrooms downstairs and an open upstairs living room, dining area and kitchen alcove, with a fireplace/chimney in the middle and a large balcony with a view of the bay and the peninsula with the city of Noumea on the far side. The beamed ceiling rose up to the central chimney, with ventilation to keep the house cool. It was a wonderful place for Bahá'í events, including a meeting with Ruhiyyih Khanum.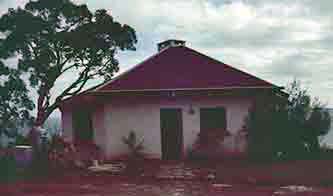 .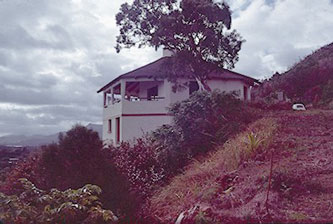 .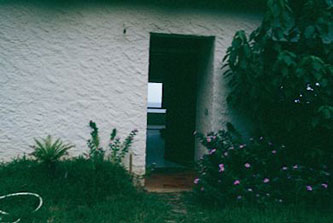 Our house on the mountainside, Mont-Dore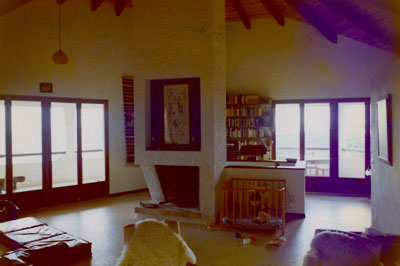 .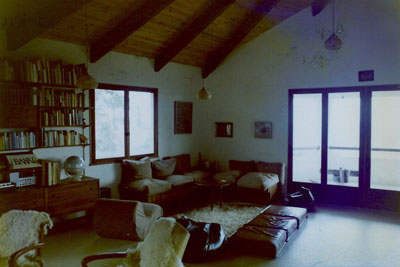 Large living room with balcony and kitchen alcove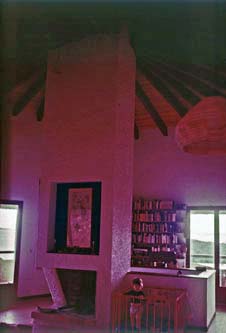 .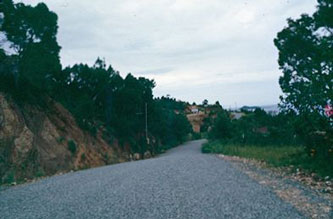 .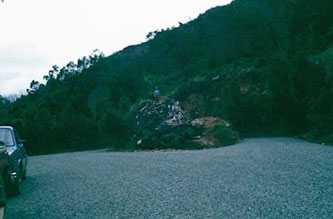 Central chimney and fireplace; the road up to our house; turn around a big boulder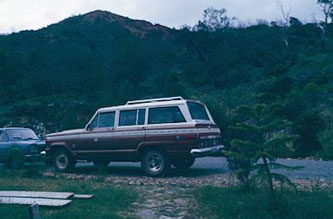 .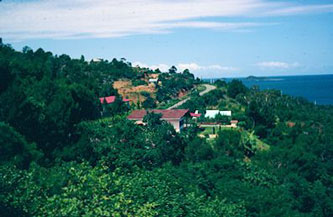 We had a Jeep Cherokee for the bad roads to the villages; view from our house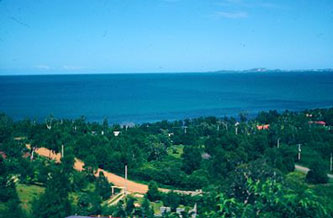 .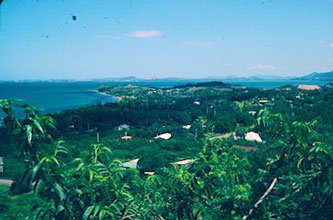 .

Panoramic view across the bay to the peninsula of Nouméa in the distance
Vallée des Colons, Nouméa
Later, after my auto accident in 1980, we moved into an old colonial home in the Vallée des Colons, in the center of Noumea. It was one of the oldest neighborhoods in the city, and our house was one of the oldest, build by a man who had come out as a warden in the penal colony and became the first police commissioner. We bought it from his two grandsons who were afraid their family would fight over the property, and were happy that we would restore the house rather than tear it down, so they sold it to us for the price of the land. It was in the middle of a large block of land that had been built up around the edges, leaving a large space in the middle where a street should have divided it in two, except that the house was there first. The family had bakeries, so there was a large 8x20 m warehouse, a large shed, stables, servants quarters (with an old caretaker we left alone), separate bathhouse and kitchen with a covered area between that we enclosed as a living room, totaling about 600 square meters.
The house was in bad condition as it had not been inhabited for 40 years, but the foundation beams were oak with copper nails, salvaged from the sailing ship that had brought the first French colonists to Nouméa, and much of the wood was tropical hardwood in good condition. We replaced the roof which had not been changed since a cyclone in the 1930s. There were iron rings in the foundations to throw ropes over the roof and tie it down during cyclones, and a drain around the living room to carry off any water that came in. We added a modern bathroom, and my father-in-law jacked up some sagging floor beams and built beautiful kitchen cabinets. He also built a fantastic model train set. We finally added a swimming pool which was finished just before we left.
The house became a kind of Bahá'í hotel for visiting friends and Bahá'í teachers, with many activities there.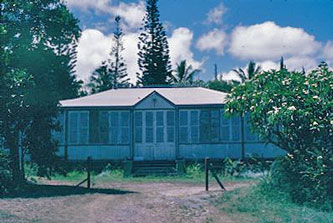 .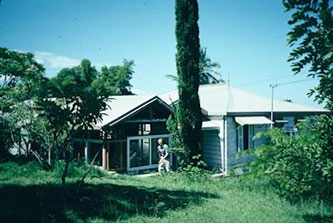 .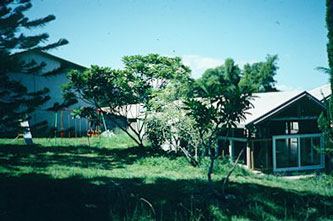 Old colonial house up the long drive from the main street; back side with renovations; large warehouse to the left behind children's play area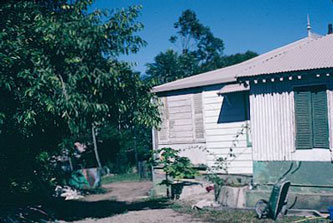 .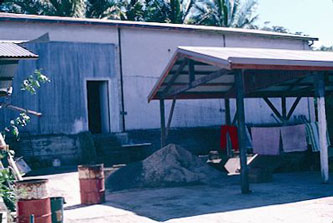 .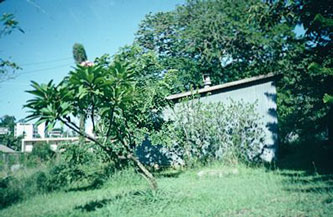 Rear court with separate bathhouse; large warehouse and former stables; shed which we later removed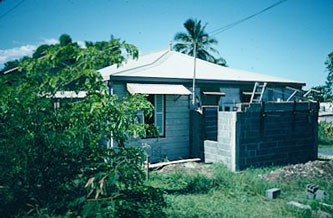 .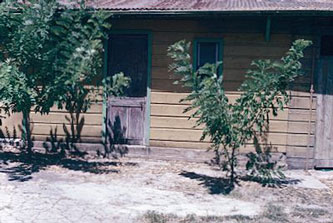 New bathroom under construction; servants' quarters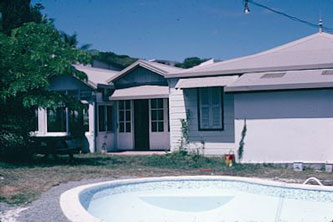 .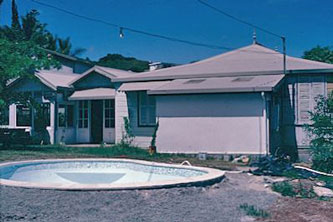 .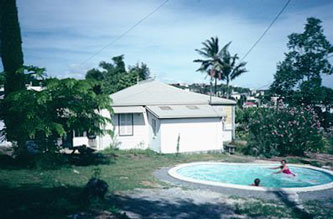 New main entrance with swimming pool under construction; and finally filled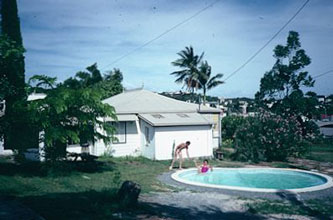 .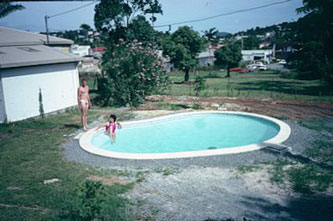 .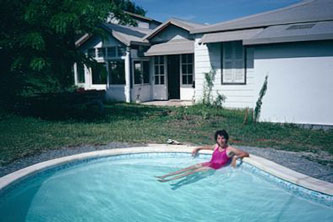 Enjoying the new swimming pool just before we left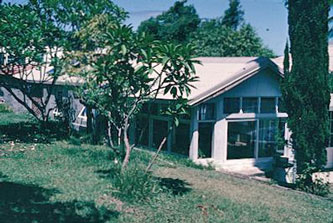 .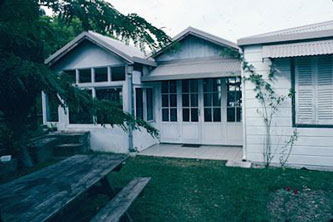 New living room and main entrance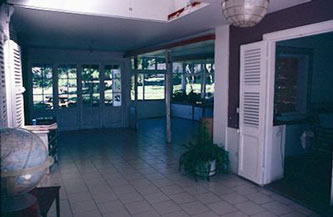 .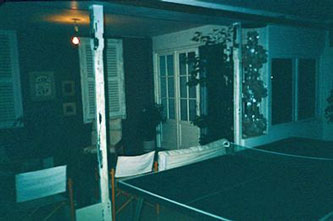 .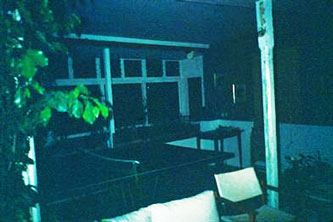 Living room with old house on left, kitchen block on right; living room big enough for a ping pong table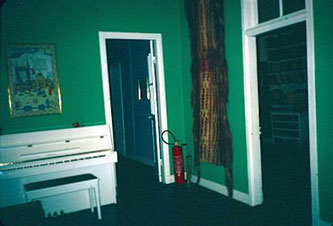 .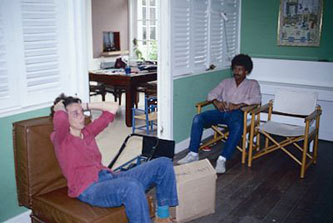 .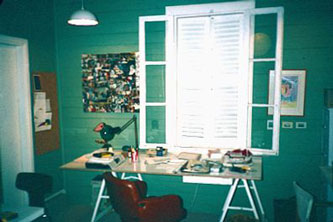 Old house living room; Martine's office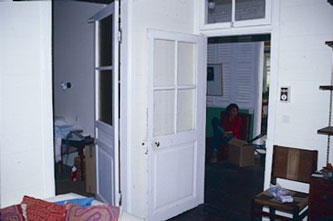 .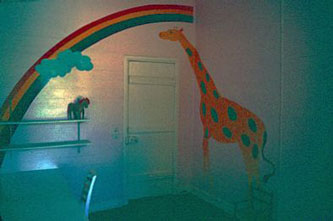 .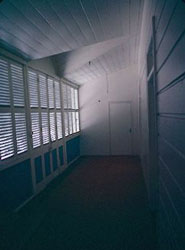 Old house interiors, office towards bedroom and living room; children's bedroom; veranda on old entrance side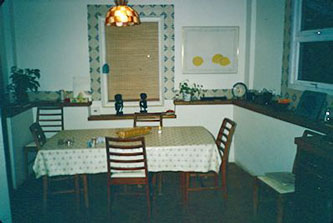 .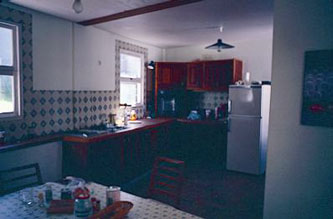 .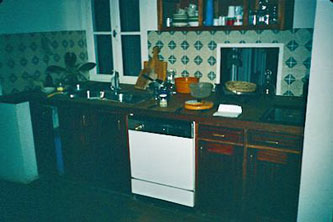 Dining room and kitchen with beautiful cabinets made by my father-in-law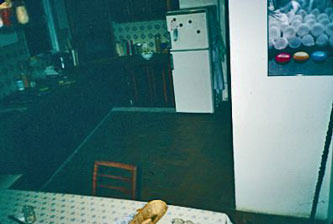 .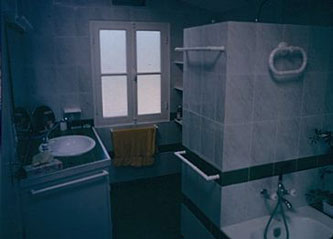 .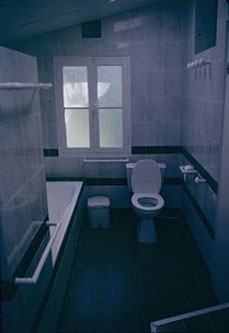 Kitchen; new bathroom
---
SAVOIE, FRANCE 1986-1989
We bought a house in Les Allues, a hamlet of Saint-Pierre d'Albigny, in the Valley of the Tarentaise between Chambery and Albertville.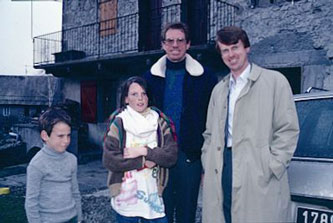 .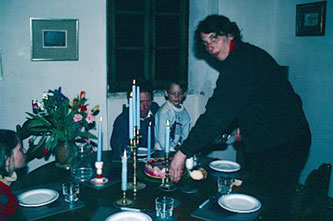 .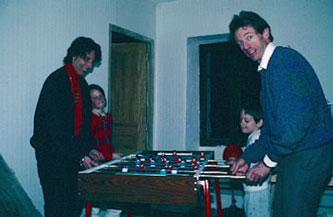 Family in front of our village house, Les Allues; at home
La Pallud
When we could not renovate the house as we wished, we moved to the Chateau de La Pallud in Saint-Jean de la Porte, the next village down the valley. The chateau was on the site of an old Roman Village on the Roman Road between Italy and France, and one of the wine cellars had 1669 carved in its door. The main part of the chateau had burned in 1900, but one tower remained along with outbuildings around a courtyard, and gardens. My office in the (ivory) tower had a view of Mont-Blanc.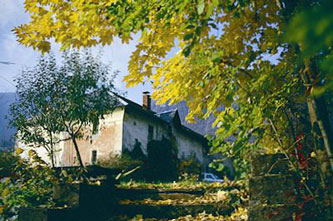 .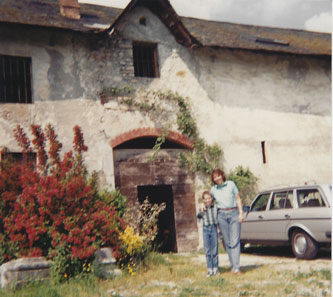 .

Entrance to La Pallud; Alex and Martine by the entrance tunnel: the remaining chateau tower
The entrance was through a cobblestone tunnel with heavy oak doors. To the left was a dining room with fireplace and the kitchen. To the right a large living room with walk-in fireplace. Living quarters were upstairs. Around the courtyard were two large wine cellars, a room for chickens, stables and a tack room that Martine used for film editing, a guest apartment, and a large space used as a garage and for firewood storage. Vineyards extended up the slope behind. Beyond the back gate was a large flat area as big as a football field with balustrade, where sheep grazed when we first bought the chateau.


View of the tower, courtyards and outbuildings from upstairs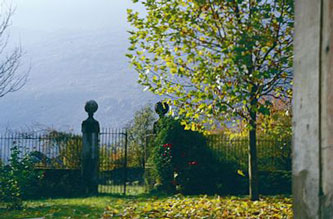 .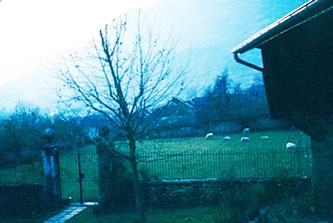 .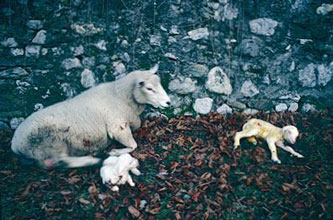 Back courtyard garden and gate; back garden with sheep; lambs born shortly after our arrival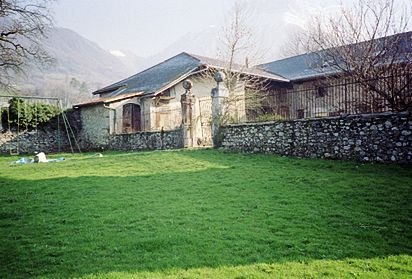 .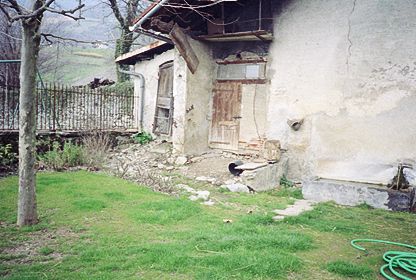 La Pallud from the back side; courtyard with tack room (later editing studio), bread oven, pig stye and watering trough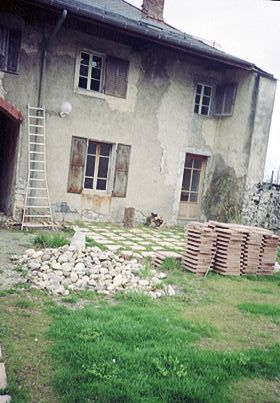 .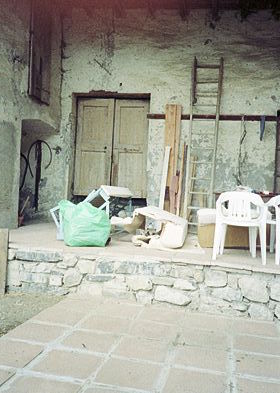 .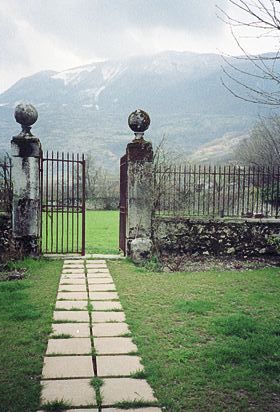 Courtyard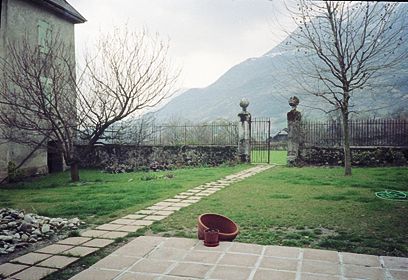 .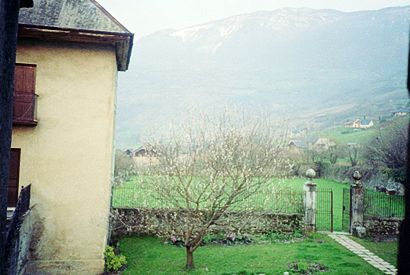 Courtyard; view from upstairs with tower on left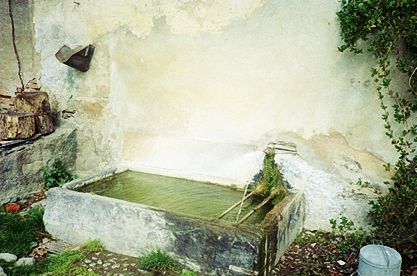 .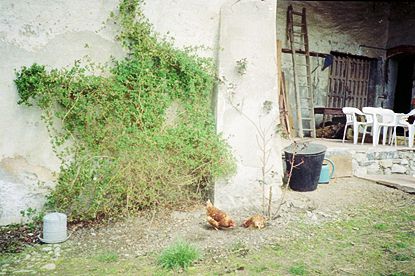 Spring-fed fountain; courtyard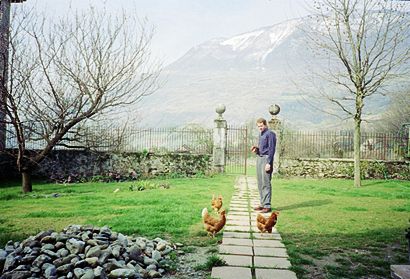 .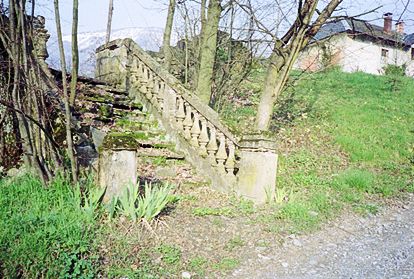 Alexander's chickens; old stairs up to the chateau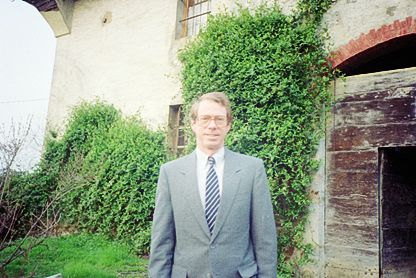 .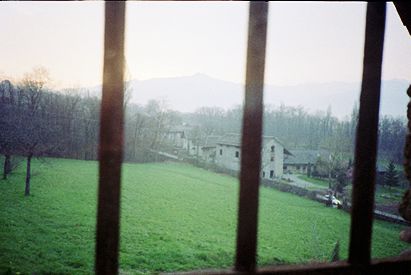 Me in front of La Pallud; view from upstairs window
.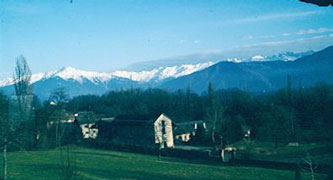 .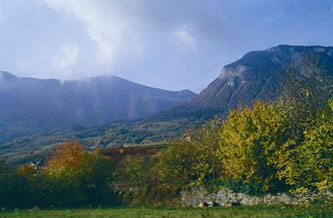 Front garden; view from La Pallud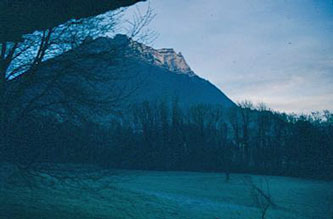 .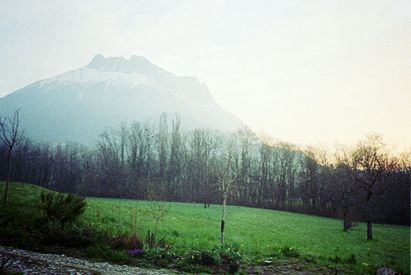 View from La Pallud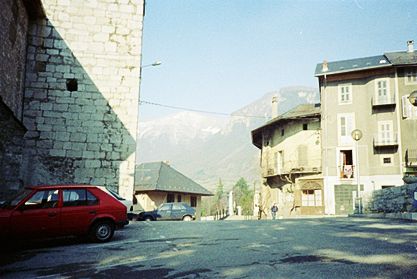 .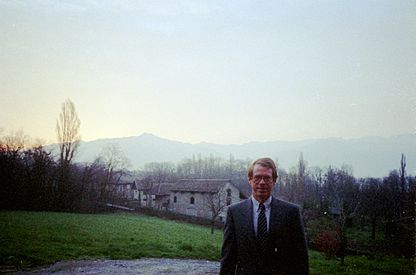 St.Pierre d'Albigny; me in front of La Pallud
---
NAIROBI, KENYA 1989-1991
We rented two homes in Nairobi, first in Brookfield, then in Thigiri Gardens to be closer to UNEP Headquarters.
---
GENEVA, SWITZERLAND 1992-present
I have lived in three different small apartments since moving to Geneva in 1992, with the most recent and smallest just 29 square meters, but always only a short walk from my office. I picked the locations to be close to my work and avoid excess transport. The challenge is to fit a maximum of books into the available space why keeping it functional and aesthetically pleasing. Dividing my residence in two has helped. When I decided to stay in Geneva on retirement, I bought a small chalet in a forest 40 minutes from Geneva in Haute Savoie, France, in 2000 (see the chalet page for pictures). While there is more space in my chalet in the forest (35 square meters), it is equally crowded. Most of the books in my apartment are on the Bahá'í Faith, with some on economics and sustainability for the courses I teach. Other collections of books on literature, history, science, art and nature are at the chalet, as are my special collections on islands and coral reefs. The paintings are almost all by Bahá'í friends of mine.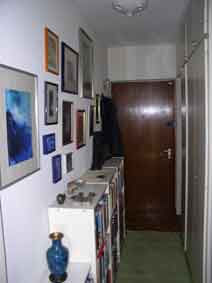 .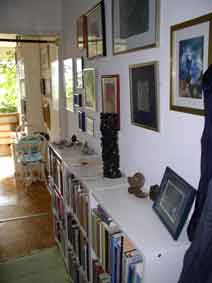 .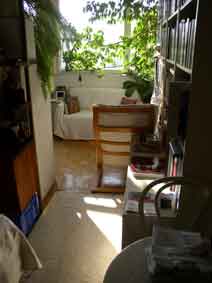 entry hall next to kitchen and bathroom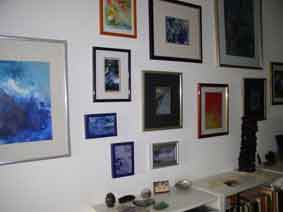 .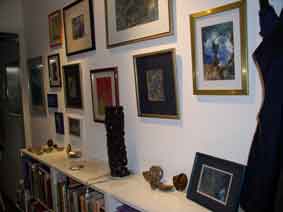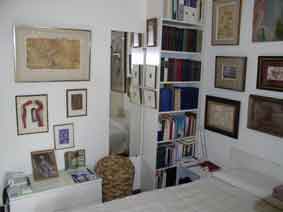 .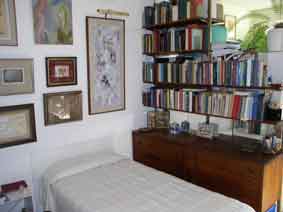 bedroom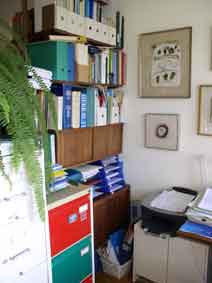 .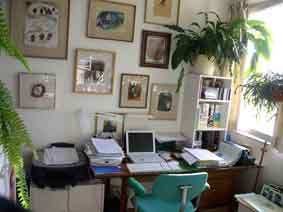 .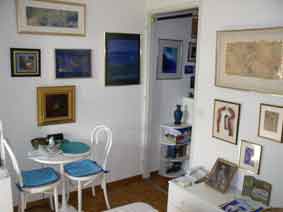 office, and dining area for two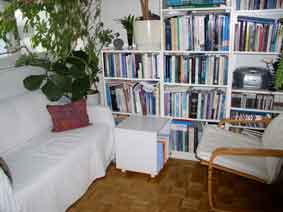 .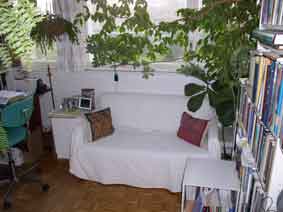 sitting area (I can fit four people)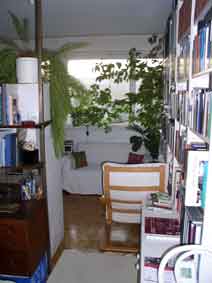 .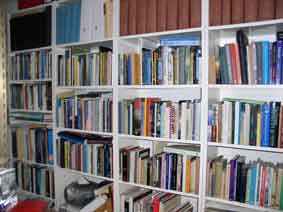 books everywhere, and just enough space to walk
---
ORMES, BOURGOGNE, FRANCE - 2017-present
In 2017, we purchased a house in the village of Ormes, Department of Saône-et-Loire, in the Bourgogne region of France, two hours from Geneva. It was built in the late 1700s as a postal relay station. It has a magnificent park of 1.5 hectares with old trees, a pond, and views down to the Saône River. It has taken a few years for Martine to restore the house and garden, but there is great potential (see separate page).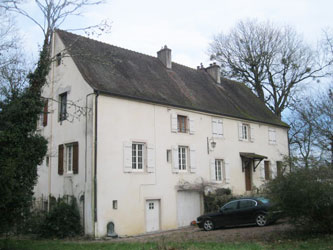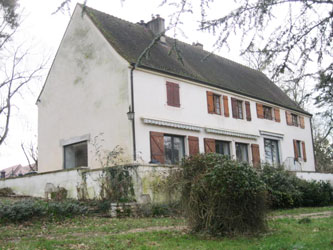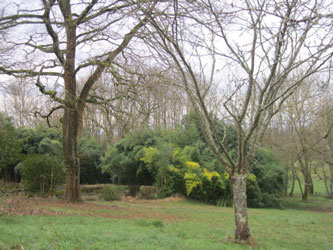 House in Ormes; garden side; part of the garden
---
Photos © copyright Arthur Lyon Dahl 2009-2020
Last updated 8 January 2021