MY LIFE IN PICTURES
My father was an avid photographer, so my childhood was reasonably well documented in photographs, but I only have a few of them myself. Then, in my adult life, I was usually behind the camera rather than in front of it, so I only have a few photos taken by someone else. I shall include in this album some of the places I have lived. Travel pictures are mostly on the TRAVEL page. Friends often say that I should write the story of my life, so maybe some of these pictures will illustrate it. I had to dig out and scan these pictures to illustrate a magazine interview, which is why I started here; some day I shall find the time to do a full family album.
See also my FAMILY photo page, my former HOMES AND GARDENS, my CHALET in the forest, and my ACTIVITIES there.
PALO ALTO, CALIFORNIA 1942-1954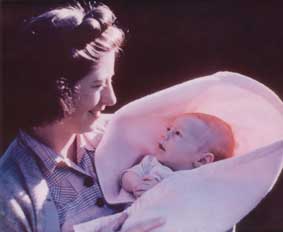 .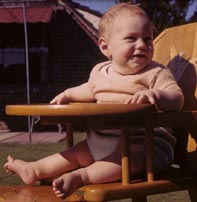 Me with my mother, 1942. As a baby, I had carrot red hair.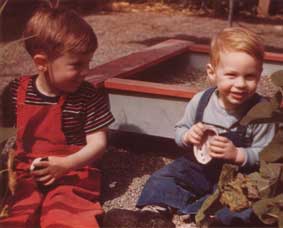 1944 - I usually got on well with my older brother Keith. My interest in marine biology obviously started very early.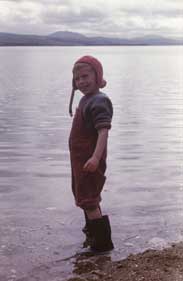 We often went to my Grandmother's summer house near Inverness on Tomales Bay, north of San Francisco, where there were indian middens, trails through the forest with an indian chief's stone throne, a boathouse and dock, and a private beach with a stream running down it that we could dam up and divert (until the next high tide). The bay water was cold in April 1947.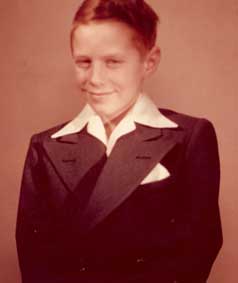 .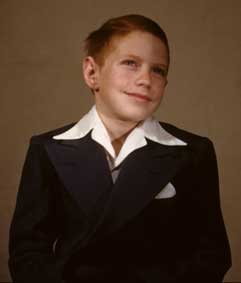 .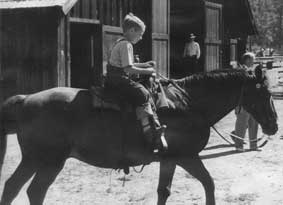 Christmas 1950, age 8, and riding horseback at Wawona, Yosemite National Park, where we stayed in the big old hotel every summer while my father played golf and we hunted for golfballs in the river, or walked through the Sequoias.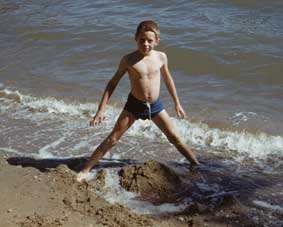 .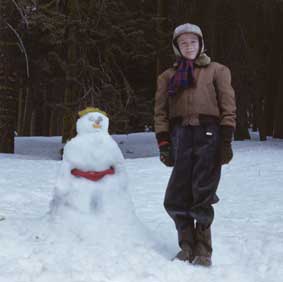 .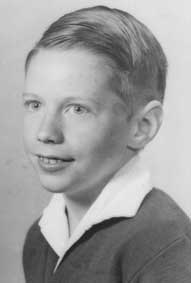 Building sand castles at the beach, 1951. Discovering snow for the first time, 1952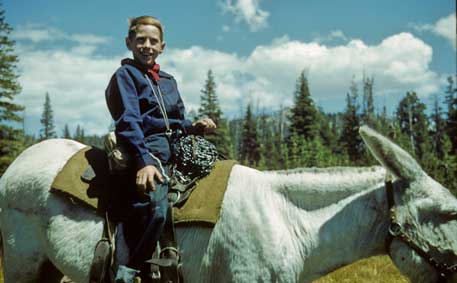 .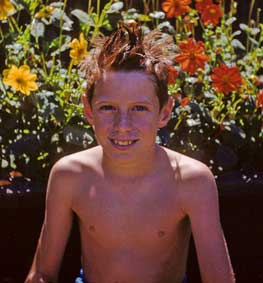 1952 - I broke a toe and had to ride a donkey in the mountains. My hairstyle has come back in fashion.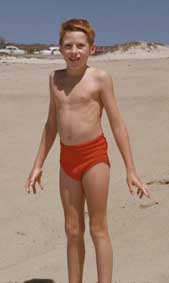 .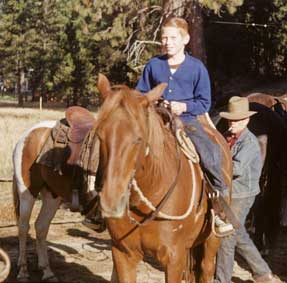 1953 - On Carmel Beach, and riding at Wawona, Yosemite National Park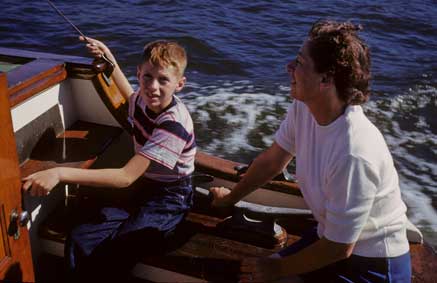 .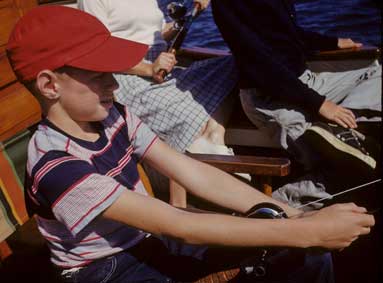 1953 - We drove up the coast to Oregon and went fishing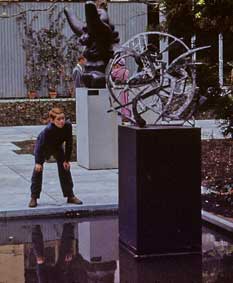 In 1953 - we went on our first cross-country trip, by train to Chicago for the dedication of the Baha'i House of Worship and launching of the Ten Year Crusade, then on to New York where I discovered modern art at the Museum of Modern Art. ----->

In 1954, I graduated from the sixth grade at the Ford Country Day School in Los Altos, California, where I had gone for all but two years of my primary schooling. The picture above with my mother and younger brothers shows the ornate mansion which the school occupied in my last years there, with 13th century brocades on the walls and a ballroom with a gilt ceiling with paintings from the Doge's Palace in Venice.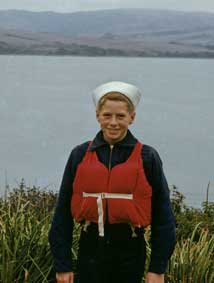 1955 - Inverness on Tomales Bay, where I was all ready for boating on the bay.
PEBBLE BEACH, CALIFORNIA 1955-1960
I lived in Pebble Beach from 1954 to 1964, first for a year as a student with my older brother Keith boarding at the Robert Louis Stevenson School while my parents packed and moved, then in our lovely home with a view over Carmel Bay (see Homes and Gardens)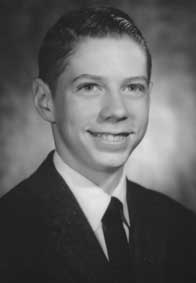 ca. 1956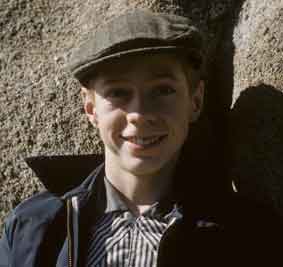 1957

My first published article, written in my highschool freshman English class in 1957, appeared in the school newspaper Tusitala, vol. 1, no. 4, in June 1957.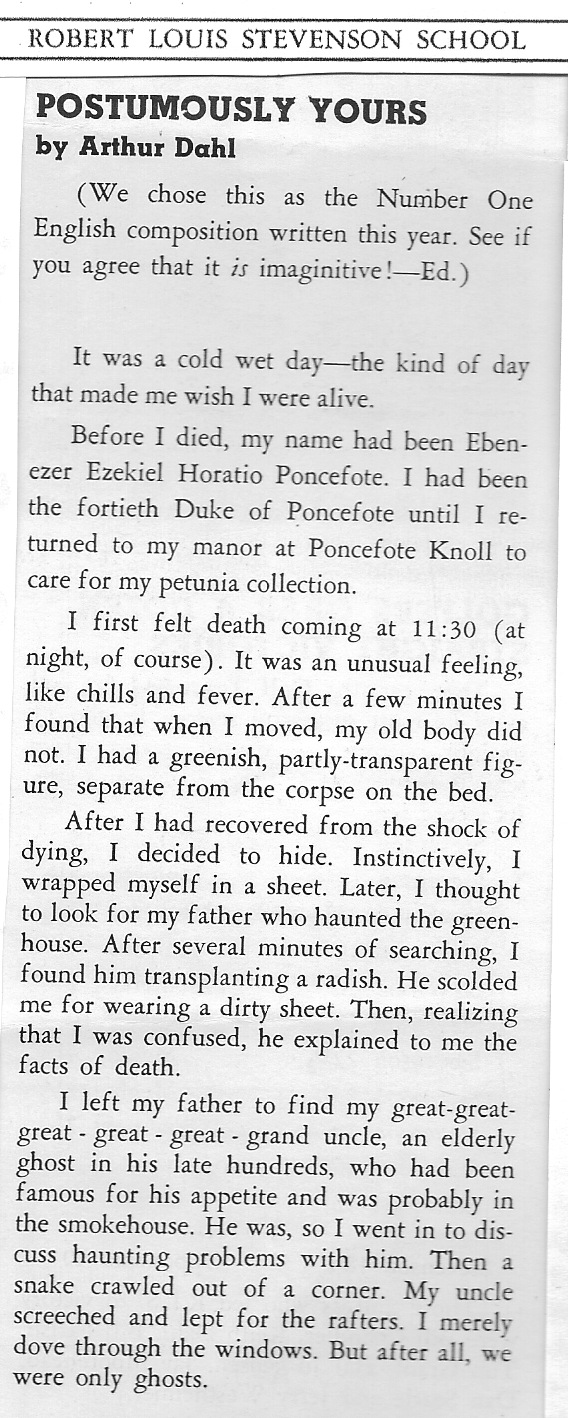 In 1957, when I turned 15, I declared my faith in Bahá'u'lláh and officially joined the Bahá'í community. Nancy Phillips, a close family friend, gave me special classes to ensure that I had a deep enough understanding of the Bahá'í Faith to make such a decision.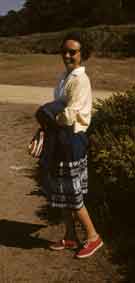 Nancy Phillips, a wonderful Bahá'í from Arizona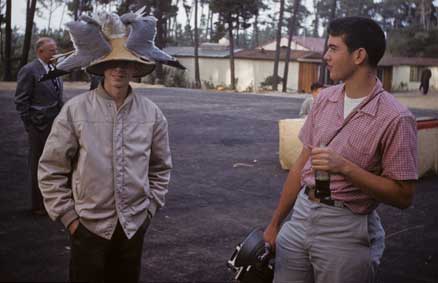 .

1958 - The Robert Louis Stevenson School in Pebble Beach, where I attended 7th through 12th grades, held a carnival every year. My best friend Bobby Ricklefs admires my award-winning entry in the hat contest combining a seagull skin and a pith helmet. I was in charge of a booth where the Principal, Robert U. Ricklefs, tried to win a goldfish.
.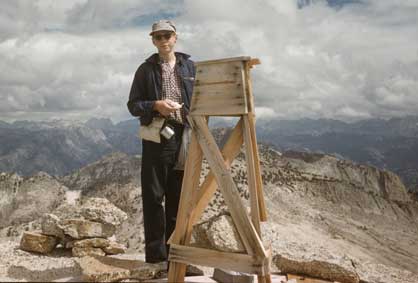 [see below 50+ years later]
1958 - My high school biology teacher was completing his Ph.D. at the Hopkins Marine Station, so we learned a lot about marine biology and I was often down in the tide pools not far from our house. In the summer as usual the whole family went backpacking in the High Sierras of Yosemite National Park, where one of our favorite climbs was to the top of Mt. Hoffman.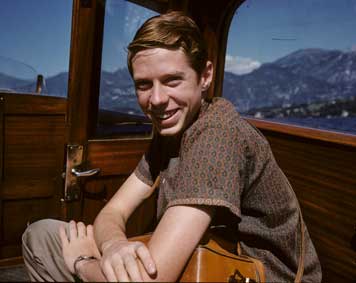 1960 - The whole family went on Baha'i Pilgrimage to Haifa, Israel, in April, and we spent 3 months traveling around Europe. My father gave me his old Leica, so I began my activity as a photographer. I still have to dig out those pictures, but here I am on Lake Como, Italy.
Various portraits in high school and college ca. 1958-1969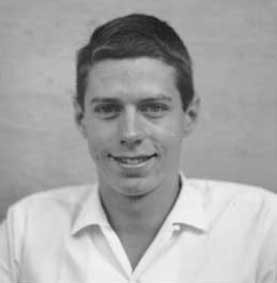 .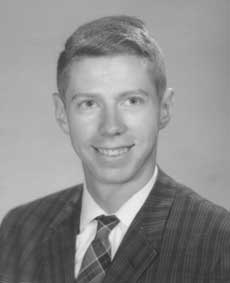 .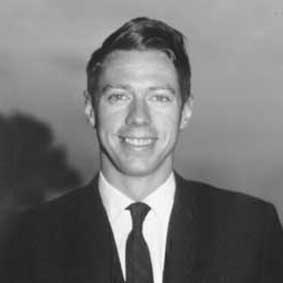 STANFORD UNIVERSITY, CALIFORNIA 1960-1964
.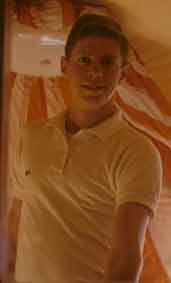 .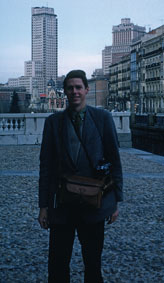 I attended Stanford University, including studying for six months in Tours at Stanford in France in 1961-62 (see photos in Travel).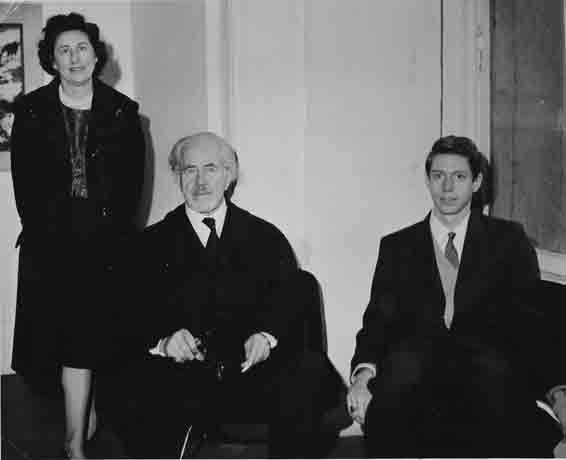 While in France, I visited the retrospective of paintings by Mark Tobey at the Louvre, Musée des Arts Decoratifs, in Paris in October 1961, when Mark and my parents were also there.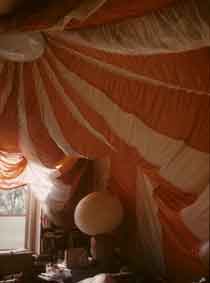 <room-mate me>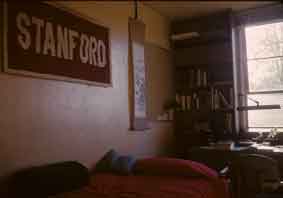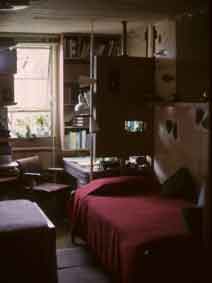 My room-mate had an interesting concept for room decoration; my side (right) was more restrained.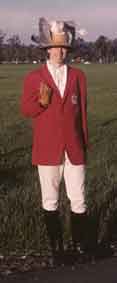 ready for a costume party at Stanford, 1961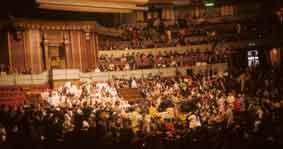 In 1963, we all attended the Bahá'í World Congress in the Royal Albert Hall in London, England
GOLETA, CALIFORNIA (UNIVERSITY OF CALIFORNIA, SANTA BARBARA) 1964-1969
I moved to Goleta, California, in 1964 for graduate studies at UCSB. We organized a Bahá'í club at the university, and eventually had enough Bahá'ís for form the first Local Spiritual Assembly of the Bahá'ís of Goleta.
.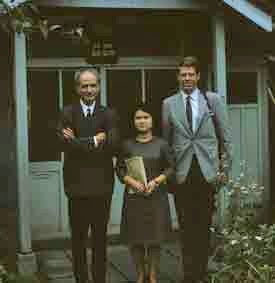 .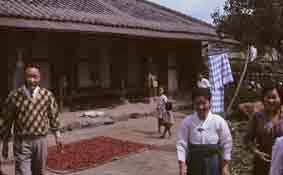 Korea
In 1966 I made my first long scientific/travel-teaching trip, first to Japan to give a scientific paper at the Pacific Science Congress in Tokyo, then visiting Baha'i communities in Japan (Hokkaido above), Korea and Taiwan, before flying over the pole to Germany to give another paper at the First European Symposium on Marine Biology on Heligoland, Germany, and on for a seminar at the University of Paris.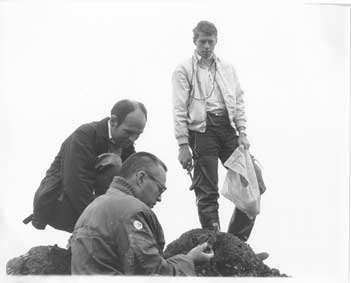 .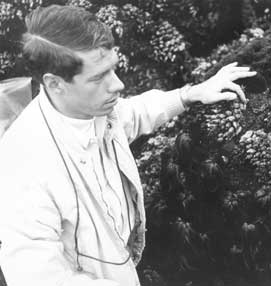 I studied for my doctorate in marine biology at the University of California, Santa Barbara, with Prof. Michael Neushul. Here we are with fellow graduate student Larry Liddle collecting algae at Carmel Point in 1967.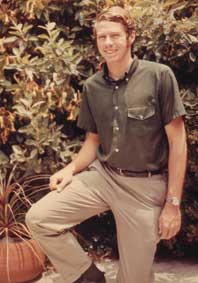 .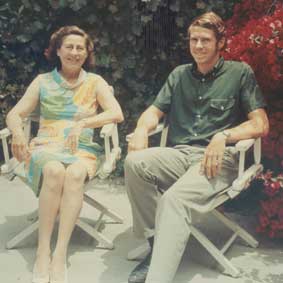 At home in Goleta, California, with my mother on a visit, 1968 (see also Homes and Gardens)
In 1968, on the hundredth anniversary of Bahá'u'lláh's exil to the Holy Land, our family attended the Bahá'í Conference in Palermo, Sicily, and then continued on to the commemoration at the Bahá'í World Centre in Haifa, Israel. We also stopped to see the Bahá'í House of Worship in Langenhain, Germany.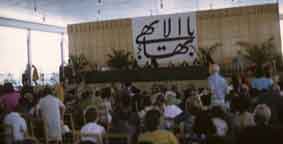 .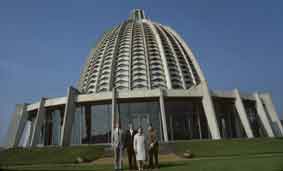 Bahá'í House of Worship, Germany
WASHINGTON, D.C. AND ALEXANDRIA, VIRGINIA 1969-1974
In 1969, I received a graduate postdoctoral fellowship at the Smithsonian Institution in Washington, D.C., to undertake research on marine algae, and began my interest in coral reef ecology. The Governor of American Samoa came to the Smithsonian asking for help in identifying their environmental problems, so I decided to set up long term coral reef monitoring surveys there rather than at the Smithsonian field station in Panama. The Bahá'ís in Samoa told me about the South Pacific Commission, a regional intergovernmental organization, and suggested I should apply there for a job after my fellowship. However the SPC did not have the funds, and the Smithsonian offered me a permanent position as Associate Curator in the Department of Botany, National Museum of Natural History. I bought a house in Alexandria, Virginia (see Homes and Gardens), and developed an active research programme on coral reefs, diving all around the world.

Visiting home in Pebble Beach with my parents and brother Roger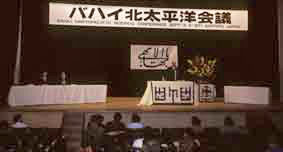 I returned to Japan in 1971 to attend the Bahá'í Conference in Sapporo, Hokkaido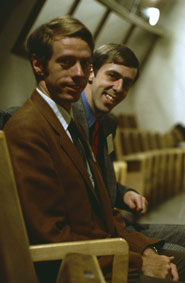 .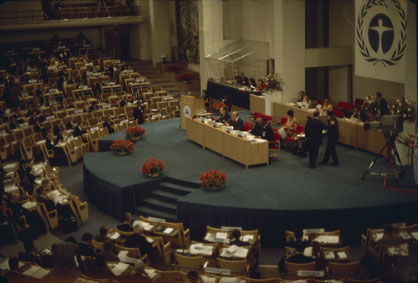 [Download high resolution photo by A. Dahl 1.5 mb]
In 1972, I was one of two representatives of the Baha'i International Community to the United Nations Conference on the Human Environment in Stockholm, Sweden, and made a statement at one of the sessions.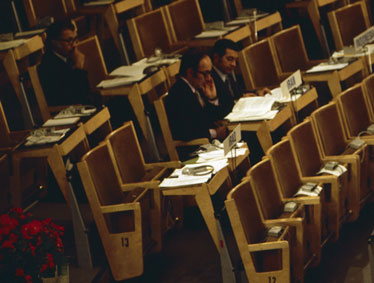 Another Baha'i, Dr. Shapour Rassekh, was also a delegate to the conference.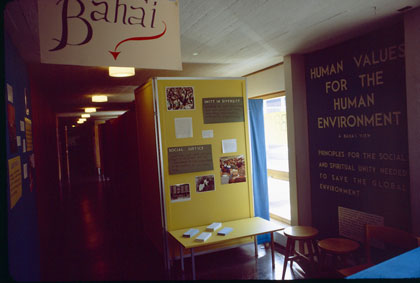 .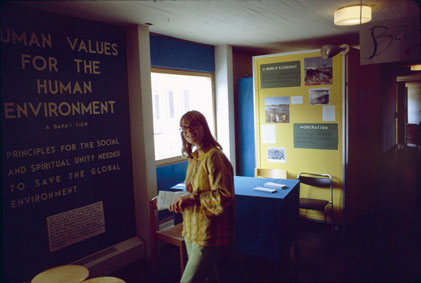 With the help of the local community, I set up a Baha'i booth in the non-governmental forum at the Stockholm Conference.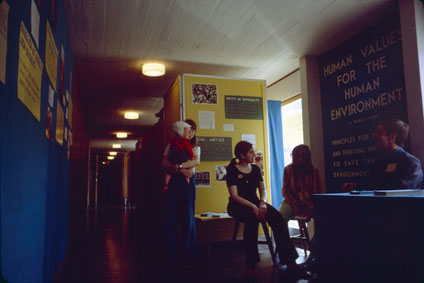 .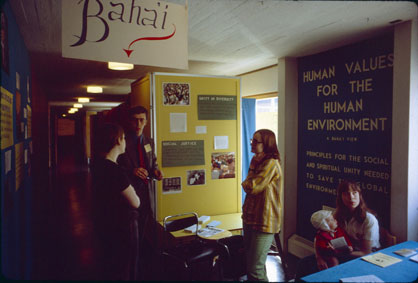 NOUMEA, NEW CALEDONIA 1974-1985
In 1974, the South Pacific Commission asked if I was still interested in the job I had applied for 5 years before, so I decided to resign from the Smithsonian and became Regional Ecological Adviser to 22 small island countries and territories of the South Pacific, moving to Noumea, New Caledonia. There I met a lovely Bahá'í biologist from France, Martine Caillard, whom I married in March 1975, with my daughter Agnès born in 1976 and my son Alexander born in 1979. I remained at the SPC until 1982, organizing the South Pacific Regional Environment Programme, and then continued as a consultant to SPC and other organizations and governments, moving to France in 1985.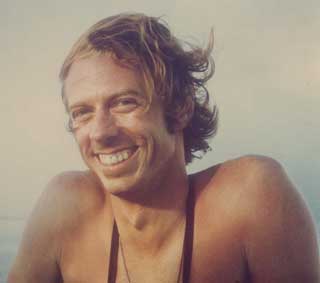 Much of my time in the Pacific was spent in boats, diving on coral reefs or traveling between islands, as on this trip in 1975 honeymooning with my new bride Martine (who took the picture).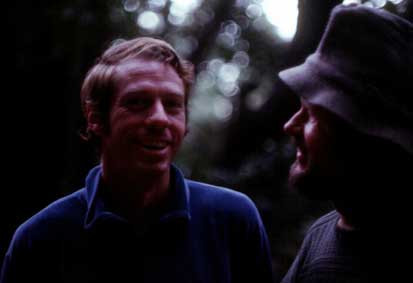 .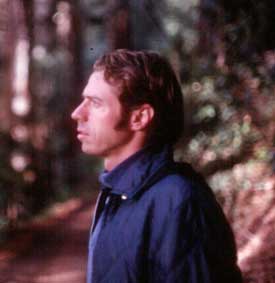 With my father in the redwoods at Big Sur on the California coast in 1977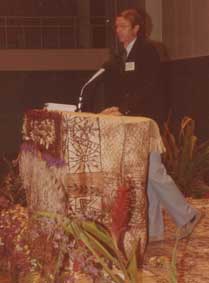 .

In 1984, we all went to the dedication of the Baha'i Temple in Samoa, and I spoke at the public meeting while Martine made a film of the event.
PLOMODIERN, ST. PIERRE D'ALBIGNY, ST. JEAN DE LA PORT, FRANCE 1985-1989
Our first year in France, we rented a house near my in-laws at Plomodiern in Brittany, until we found a farm house in the village of St.Pierre d'Albigny in Savoie in the Alps. When we could not enlarge that as we wished, we bought the remains of a small chateau, La Pallud, in the neighbouring village of St. Jean de la Porte. I continued as a consultant to international organizations and governments, and Martine established her own film-making company, AkkaPro.
NAIROBI, KENYA 1989-1991
In 1989, while on a consutancy with the United Nations Environment Programme (UNEP) in Nairobi, Kenya, I was offered the post of Deputy Director of the Oceans and Coastal Areas Programme Activity Centre, which I took up in March 1989, and we all moved to Nairobi.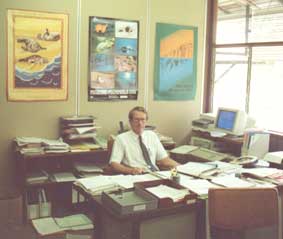 I continued with OCA/PAC until 1991, when Martine had health problems and had to return to Europe with the children. I was loaned to the Secretariat of the United Nations Conference on Environment and Development (the Rio Earth Summit) in Geneva, and helped to draft Agenda 21.
GENEVA, SWITZERLAND 1992-PRESENT
(see also my TRAVEL page and my CHALET and ACTIVITIES pages since 2000)
UNEP transfered me permanently to Geneva in March 1992 as Coordinator of the UN System-Wide Earthwatch. I also became Deputy Assistant Executive Director of the Division of Early Warning and Assessment. In 2000, I was named Director of a new Coral Reef Unit in UNEP, until my retirement in 2002. I decided to stay in Geneva, and UNEP continued for 8 years to provide me with an office for my projects with them, especially as Coordinator of the UNEP/University of Geneva/Graduate Institute Environmental Diplomacy Programme (2005-2009). I have a small apartment in Chatelaine, Geneva, a 3 minute walk from International Environment House, and escape when I can to my little chalet in the forest nearby in France.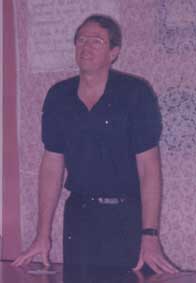 .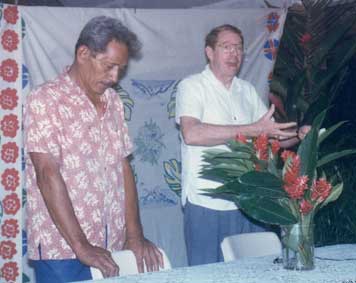 .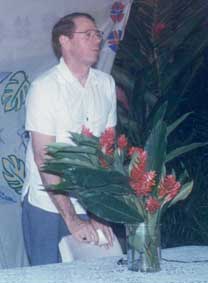 I try to give Baha'i talks wherever I can when I travel, as here in American Samoa in 1994 and 1996.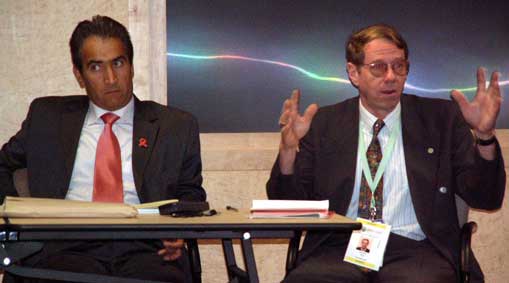 Speaking at an International Environment Forum seminar at the UN World Summit on Sustainable Development in Johannesburg in 2002.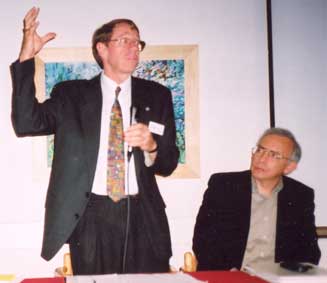 On a panel with Augusto Lopez-Claros at the European Baha'i Business Forum (EBBF), now Ethical Business Building the Future, Annual Conference, de Poort, the Netherlands, 2003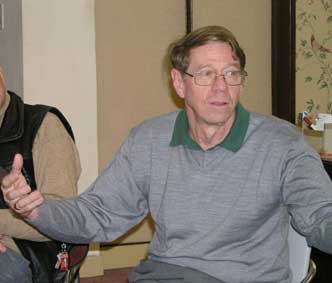 .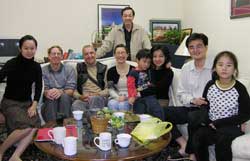 Speaking at the Bahá'í Centre in Taipei, Taiwan in 2005 while preparing a report for the World Economic Forum on the economic success of Taiwan.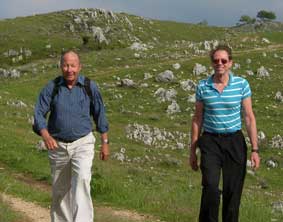 Walking in the hills behind Acuto, Italy, with George Starcher in 2006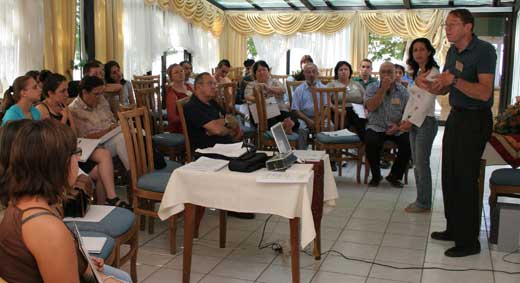 .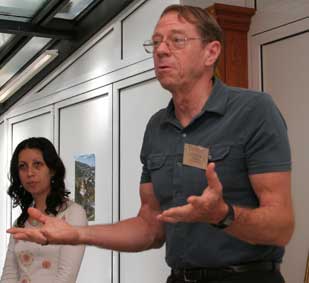 I was one of the teachers at the first Bahá'í Summer Gathering in Macedonia in 2006. (more pictures on the Travel page)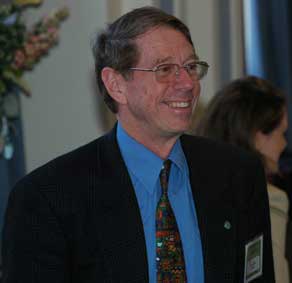 .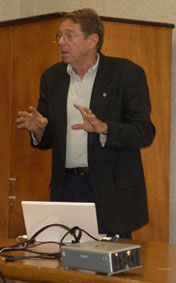 At the International Environment Forum conference in Ottawa in 2007; and a Bahá'í talk in Chambery, France.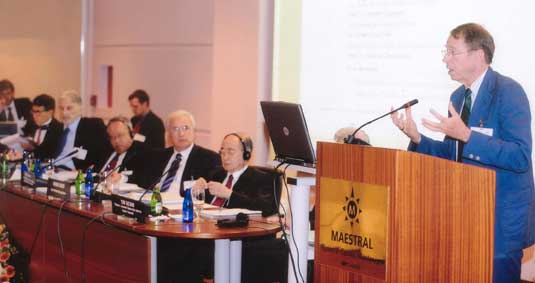 .

At the 2008 Conference on Peace and Development in Montenegro, I spoke on the environment as a force for peace.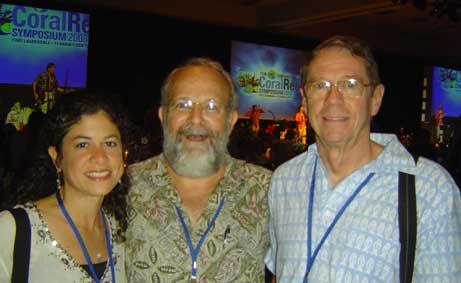 At the International Coral Reef Symposium in Fort Lauderdale, Florida, in 2008, I met two other members of the International Environment Forum, Elizabeth McLean from Puerto Rico and my old friend Austin Bowden-Kirby from Fiji.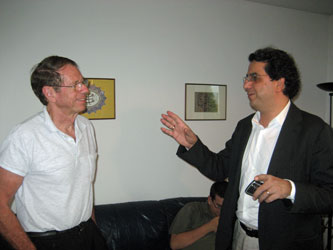 In 2008, I met the Canadian architect of the Baha'i House of Worship in Chile when he visited Geneva, and discovered that the his inspiration for a "temple of light" came from a painting by Mark Tobey in my own collection (see separate page).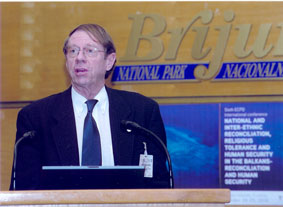 .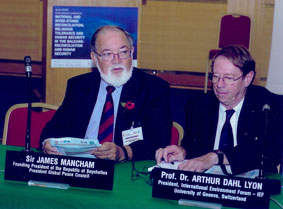 .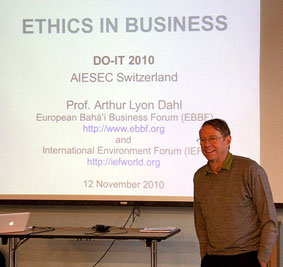 Speaking at the ECPD Conference in Croatia, and co-chairing a session; and an AIESEC conference in Switzerland, 2010.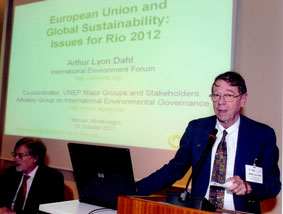 .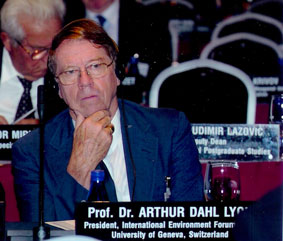 .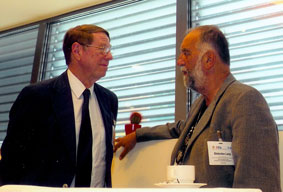 At the European Center for Peace and Development (ECPD) Conference in Montenegro in 2011


.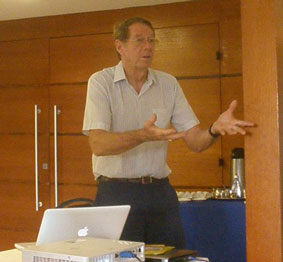 Panelist at the IEF Conference in Hobart, Tasmania, 2011; speaker at IEF event at Rio+20, Rio de Janeiro, 2012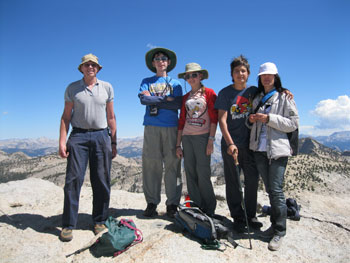 In 2012, I made it back to the top of Mount Hoffman, in the High Sierras of California, 47 years after my last climb up. However my nephew and niece, and their Bulgarian friends, reached the top first. [see travel page for more photos]
---
Photographs © copyright Arthur Lyon Dahl 1960-2017
Last updated 12 August 2016